BMW X5: Replacing Level Switch For Dynamic Drive Fluid Reservoir
Unscrew nuts.
Remove shims.
Installation:
Replace self-locking nuts.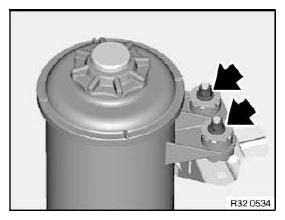 Fig. 162: Locating Nuts
NOTE: Raise and/or turn fluid reservoir in order to gain better access to plug connection.
Disconnect plug connection (1).
Turn level switch (2) through approx. 45º and remove towards bottom.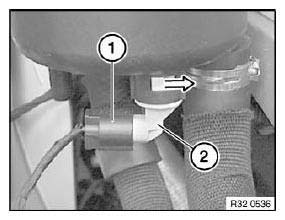 Fig. 163: Turning Level Switch
OVERVIEW OF SWITCHES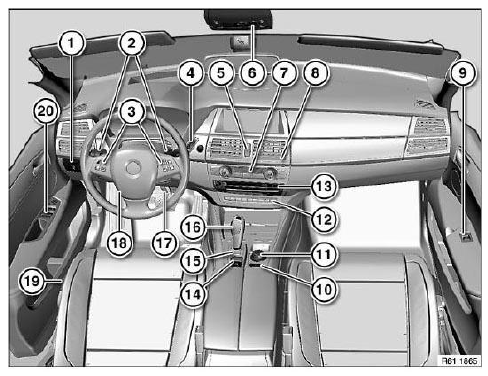 Fig. 164: Overview Of Switches
Light operating unit
Steering column switch cluster
Multifunction steering wheel switch
Start/Stop switch
Switch for hazard warning system/central locking
Roof switch centre
Control panel for heater/air conditioner
Switch for unlocking glovebox
Power window switch
Button unit
Controller
Centre console switch cluster
Car Communication Computer
Switch for electromechanical parking brake
Switch for Electronic Damper Control
Gear selector switch
Brake-light switch
Steering column adjustment switch
Switch combination for seat adjustment
Power window switch
READ NEXT:
WARNING: Move wheels into straight-ahead position and do not alter this position during the repair work. With steering wheel removed, do not under any circumstances turn/twist fixture for steering c
Necessary preliminary tasks: Remove left fresh-air grille. Press out light control unit (1) from inside. Fig. 175: Pressing Out Light Control Unit Disconnect plug connection (1). Remove light con
Special tools required: 00 9 323 Necessary preliminary tasks: Open storage box Unclip trim (1) with special tool 00 9 323 at retaining points (2). Disconnect associated plug connections. Fig.
SEE MORE:
Concept The Sport displays especially support a sporty driving style. Display on the Control Display Overview The following information is displayed: Boost pressure. Engine oil temperature. G-Meter. Torque. Power. Displays 1. "CAR". 2. "Driving information". 3. "Sport displays". Display in
Danger of poisoning! Ingesting oil or absorbing through the skin may cause poisoning! Possible symptoms are: Headaches Dizziness Stomach aches Vomiting Diarrhoea Cramps/fits Unconsciousness Protective measures/rules of conduct: Pour oil only into appropriately marked containers Do not po