BMW X5: Battery Charging
If a normal or quick charger is used to charge the battery, the battery must be disconnected from the vehicle electrical system and removed. This prevents damage to paintwork and upholstery.
Ideally, battery charging is performed with BMW-approved charging computers.
IMPORTANT: In order to prevent the intelligent battery sensor from malfunctioning, the charging terminals in the engine compartment must be used without fail in vehicles from E60 and should be used if possible in other vehicles.
IMPORTANT: Before charging the battery while it is installed, first carry out a closed-circuit current test. If here the voltage is 10 V or less, one or more of the cells may be faulty or the entire battery may already be damaged. In this case, always remove the battery as escaping gases during charging could damage the interior equipment and trim. Attempt to regenerate faulty cells with low charging current.
If necessary, open existing plugs on the individual cells.
BATTERY OPEN-CIRCUIT CURRENT TEST
NOTE: Observe safety instructions for handling vehicle battery.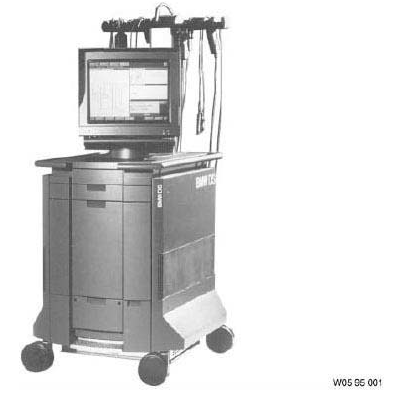 Fig. 154: Identifying Diagnosis And Information System
The open-circuit current test is performed using the Diagnosis and Information System (DIS).
DISCONNECTING AND CONNECTING BATTERY NEGATIVE LEAD
WARNING: Observe safety instructions for handling vehicle battery.
IMPORTANT: Do not under any circumstances use force to pull/lever off Intelligent Battery Sensor (IBS).
Necessary preliminary tasks:
Raise luggage compartment floor trim
Release screws (1).
Remove battery cover (2) upwards.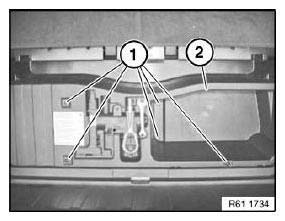 Fig. 155: Identifying Battery Cover
Loosen nut (1).
Tightening torque.
Disconnect battery negative lead (2) with IBS and secure at side.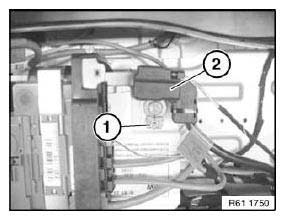 Fig. 156: Identifying Battery Negative Lead
PERFORMING BATTERY "POWER RESET" (FOR PROGRAMMING/CODING CONTROL UNIT(S) )
IMPORTANT: Observe safety instructions for handling vehicle battery.
The following steps must be carried out for a "power reset":
Switch off and disconnect battery charger
Switch off ignition
Cars with ignition key: Turn ignition key to 0 position
Cars with identification sensor: Remove identification sensor from slot
Cars with comfort access system: Make sure terminal is in 0 position
Disconnect battery negative terminal
Reconnect battery negative terminal (to ensure bus activity)
Waiting time (5-10 seconds)
Disconnect battery negative terminal
Waiting time (1 minute)
Connect battery negative terminal and tighten.
Tightening torque.
Connect and switch on battery charger
Switch ignition on
READ NEXT:
REPLACING BATTERY NEGATIVE LEAD WARNING: Observe safety instructions for handling vehicle battery. Follow instructions for disconnecting and connecting battery. IMPORTANT: Do not under any circumst
Unscrew nuts. Remove shims. Installation: Replace self-locking nuts. Fig. 162: Locating Nuts NOTE: Raise and/or turn fluid reservoir in order to gain better access to plug connection. Disconnect pl
SEE MORE:
REPLACING WIRING HARNESS SECTION FOR ENGINE (N52K) Special tools required: 24 2 390. IMPORTANT: Read and comply with notes on protection against electrostatic damage (ESD protection)! Necessary preliminary tasks: Read out DME fault memory Switch off ignition Disconnect battery negative lead
WARNING: Danger of scalding! These tasks on the cooling system should only be carried out on an engine that has cooled down! IMPORTANT: Wear protective gloves and goggles. IMPORTANT: Lifetime coolant filling: Never reuse used coolant! When replacing and removing components which rely on the corrosio