BMW X5: Removing And Installing/Replacing Inlet Camshaft (N52K)
Special tools required:
IMPORTANT: Aluminium screws/bolts must be replaced each time they are released.
The end faces of aluminium screws/bolts are painted blue for the purposes of reliable identification.
Jointing torque and angle of rotation must be observed without fail (risk of damage).
Necessary preliminary tasks:
Remove cylinder head cover
Remove inlet adjustment unit
Remove intermediate lever
Adjust valve timing
NOTE: All bearing caps (1 and 2) are marked with numbers from 1 to 6.
Bearing cap (1) is a thrust bearing.
Release screws on bearing caps 1 to 6 (1 and 2).
Tightening torque: 11 31 2AZ.
Set all bearing caps down in special tool 11 4 481 in a tidy and orderly fashion.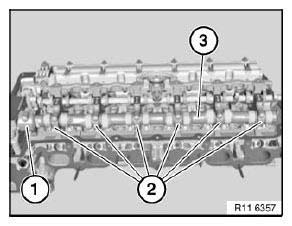 Fig. 162: Bearing Caps
Remove inlet camshaft (2) towards top.
Installation:
Clean all bearing points and lubricate with oil.
Check plain compression rings (1) for damage and replace if necessary.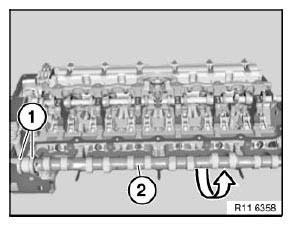 Fig. 163: Removing Inlet Camshaft
Plain compression rings (1) are engaged at joint.
Press plain compression rings (1) apart upwards and downwards and removed towards front.
IMPORTANT: Plain compression rings (1) can easily break.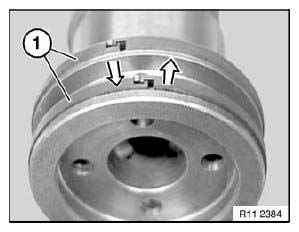 Fig. 164: Removing Plain Compression Rings
IMPORTANT: Markings of inlet and exhaust camshafts are different.
Mixing up the inlet and exhaust camshaft will result in engine damage.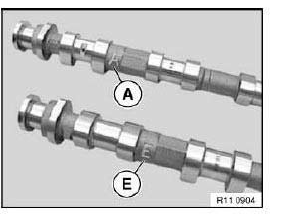 Fig. 165: Markings Of Inlet And Exhaust Camshafts
Exhaust camshaft
Inlet camshaft
Insert inlet camshaft (1) so that part number on twin surface points upwards.
Position inlet camshaft (1) so that cams point upwards at an angle.
Attach special tool 11 4 281 to twin surface.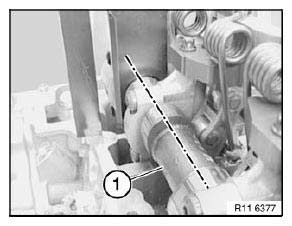 Fig. 166: Inlet Camshaft
Assemble engine.
READ NEXT:
Special tools required: 00 9 120 11 4 350 11 4 461 11 4 462 11 4 463 11 9 000 IMPORTANT: It is absolutely essential to follow an exact procedure for removing and installing the exhaust camsha
Special tools required: 00 9 140 11 0 300 11 4 280 11 4 281 11 4 282 11 4 283 11 4 360 11 4 362 11 5 200 11 9 280 Necessary preliminary tasks: Remove cylinder head cover Remove all spar
Special tools required: 00 9 120 TORQUE ANGLE MEASURING DIAL 00 9 250 TORSION ANGLE WRENCH WITH FLEXIBLE EXTENSION 11 0 300 11 4 280 11 4 281 11 4 282 11 4 283 11 4 290 11 9 340 Necessary p
SEE MORE:
REMOVING AND INSTALLING OR REPLACING BATTERY POSITIVE LEAD (BETWEEN ALTERNATOR, STARTER MOTOR AND JUMP START CONNECTION POINT) (N62, N62TU) REFERENCE CHART REMOVING AND INSTALLING OR REPLACING BATTERY POSITIVE LEAD (BETWEEN ALTERNATOR, STARTER AND BATTERY POSITIVE TERMINAL) (N62) REFERENCE CHART (N
Principle Displays for specific functions can be displayed in the instrument cluster. The following displays can be selected: Current entertainment source, e.g., radio. Torque and power. G-Meter. Trip data. Efficiency display. Selecting Continue to press the button on the turn signal lever