BMW X5: Operation via touchscreen
General information
The Control Display is equipped with a touchscreen.
You can tap on menu items and widgets. Touch the touchscreen with your fingers. Do not use any objects.
Opening the main menu

Tap on the icon.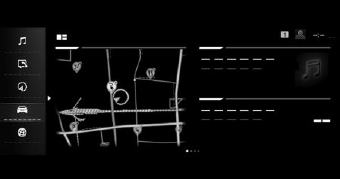 The main menu is displayed.
Adjusting widgets
The widgets can be adjusted in the main menu.
It is possible to create multiple pages with widgets and switch between pages. The adjustments can only be performed when the vehicle is stationary.
1. Select the desired page in the main menu.
Only the currently selected page can be adjusted.
2.

Tap the icon in the main menu.
3. Select the desired adjustment:
4. Tap "Done".
Showing/hiding the display bar
In the upper area of the Control Display, it is possible to show or hide a display bar with additional functions.
To show the display bar, pull down the display bar at the top edge of the screen.
To hide the display bar, pull up the display bar at the top edge of the screen.
Changing between displays
After a menu item is selected, a new display opens.
An arrow indicates that additional displays can be opened.
Swipe to the left.
Tap arrow.
The new display opens.
Entering letters and numbers
Input
1. When approaching the touchscreen, a keyboard appears on the Control Display.
2. Enter desired letters and numbers.
Deleting

Tapping the icon: deletes the letter or number.

Tapping and holding the icon all letters: deletes all letters or numbers
Using the map
The navigation map can be moved using the touchscreen.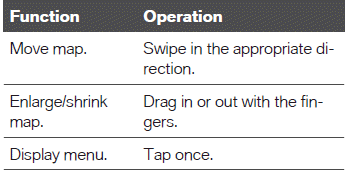 Using alphabetical lists
For alphabetical lists with more than 30 entries, the letters for which an entry exists can be displayed in a text box.
1. Tap the letter in front of the list.
A letter box is displayed.
2. Tap the first letter of the desired entry.
READ NEXT:
Principle The BMW Intelligent Personal Assistant is a personal assistant that enables natural voice operation of various vehicle functions. The Personal Assistant simplifies the operation of the vehic
Activating the voice control system General information There are various methods for activating the voice control feature: Press the button on the steering wheel. The microphone on the driver's s
Possible commands General information Most contents on the Control Display can be spoken as commands, e.g. menu items or list entries. Say list entries as shown. Instructions can be issued or questi
SEE MORE:
WARNING: Danger of poisoning if oil is ingested/absorbed through the skin! Risk of injury if oil comes into contact with eyes and skin! Recycling: Observe country-specific waste-disposal regulations. Measures if oil is unintentionally released: Personal precautionary measures: Danger of slipping!
Special tools required: 00 2 190 NOTE: If a tire sealant has been used, replace the wheel electronics. When a tire has been removed, do not clean the rim with installed wheel electronics with high-pressure cleaning equipment. Do not treat wheel electronics with solvents, cleaning agents etc. If