BMW X5: Operation via touchpad
General information
Some iDrive functions can be operated using the touchpad on the Controller.
Selecting functions
1. "CAR".
2. "Settings".
3. "General settings".
4. "Touchpad".
5. Select the desired setting.
Entering letters and numbers
Enter characters as they are displayed on the Control Display.
Always enter associated characters, such as accents or periods so that the letter can be clearly recognized.
The set language determines what input is possible. Where necessary, enter special characters via the Controller.
Entering special characters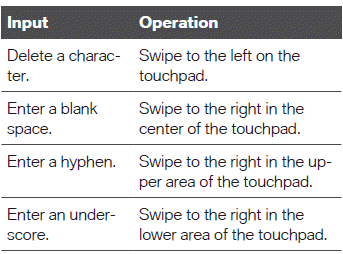 Using the map
The map in the navigation system can be moved via the touchpad.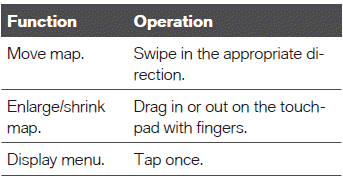 Using alphabetical lists
Alphabetical lists with more than 30 entries permit a direct jump to letters for which an entry exists.
Enter the first letter on the touchpad.
The first entry of the entered letter is displayed in the list.
READ NEXT:
General information The Control Display is equipped with a touchscreen. You can tap on menu items and widgets. Touch the touchscreen with your fingers. Do not use any objects. Opening the main menu
Principle The BMW Intelligent Personal Assistant is a personal assistant that enables natural voice operation of various vehicle functions. The Personal Assistant simplifies the operation of the vehic
Activating the voice control system General information There are various methods for activating the voice control feature: Press the button on the steering wheel. The microphone on the driver's s
SEE MORE:
The brake system is one of the most important safety systems on any motor vehicle. It is therefore essential to act with utmost care when working on the brake system and to follow the instructions below. General: Ensure cleanliness and only use rags which do not lose lint. Wash away or vacuum u
Special tools required: 34 1 260. NOTE: The thickness of the outer brake pads can be determined without removing the wheels. If necessary, move car until opening for brake pad wear indicator (brake pad) can be seen through rim styling. Insert special tool 34 1 260 through rim into opening for b