BMW X5: Manually Unlocking Transmission Lock
For various tasks, it is necessary to unlock and lock the transmission lock.
This can be done from inside or underneath the vehicle.
From vehicle interior:
Refer to MANUAL EMERGENCY UNLOCKING OF TRANSMISSION LOCK.
Underneath car:
Remove underbody protection.
Press lever (1) towards rear.
Clamp lever firmly if permanently unlocking is desired.
Locking:
Release lever (1) or release clamping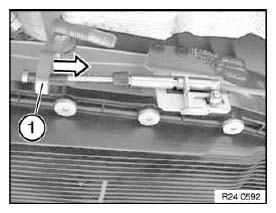 Fig. 52: Identifying Lever
NOTES ON MECHATRONICS (GA6HP26Z/GA6HP32Z/GA6HP19Z)
Special tools required:
IMPORTANT: After completing work:
Load specific data version with DIS.
Check transmission fluid level.
Use only approved transmission fluid.

Failure to comply with this requirement will result in serious damage to the automatic transmission!
IMPORTANT: Read and comply with notes on protection against electrostatic damage (ESD protection).
Unscrew plug (1) and disconnect.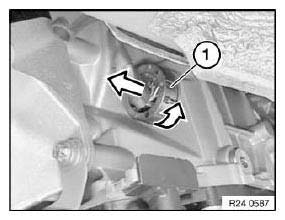 Fig. 53: Identifying Plug
Insert special tool 24 2 390 in sealing sleeve (1).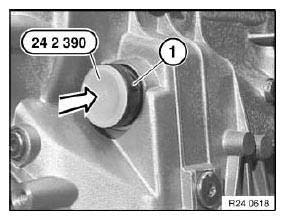 Fig. 54: Identifying Special Tool (24 2 390)
READ NEXT:
Special tools required: 24 2 390 IMPORTANT: After completion of work, check transmission oil level. Use only approved transmission fluid. Failure to comply with this requirement will result in se
REMOVING AND INSTALLING/REPLACING TORQUE CONVERTER (GA6HP26Z) Special tools required: 00 2 550 24 4 000 IMPORTANT: After completion of work, check transmission fluid level. Use only approved tran
SEE MORE:
Safety information Warning Improperly executed work in the engine compartment can damage vehicle components and impair vehicle functions. There is a risk of an accident and damage to property. Have work in the engine compartment performed by a dealer's service center or another qualified service cen
WARNING: Danger of poisoning if oil is ingested/absorbed through the skin! Risk of injury if oil comes into contact with eyes and skin! IMPORTANT: Use only the approved front differential oil in this front differential. Failure to comply with this requirement will result in serious damage to the