BMW X5: Torque Converter
REMOVING AND INSTALLING/REPLACING TORQUE CONVERTER (GA6HP26Z)
Special tools required:
IMPORTANT: After completion of work, check transmission fluid level. Use only approved transmission oil. See AUTOMATIC TRANSMISSION - OPERATING FLUIDS.
Failure to comply with this instruction will result in serious damage to the transmission.
Necessary preliminary tasks:
Remove automatic transmission.
Screw special tool 24 4 000 into torque converter.
Remove torque converter.
NOTE: When torque converter is removed, transmission oil flows out.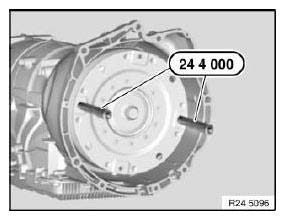 Fig. 70: Identifying Special Tool (24 4 000)
Installation:
When installing, do not damage shaft seal and bearing.
If the torque converter is not correctly installed, the driver of the pump impeller may be damaged when the transmission is flanged to the engine.
Remove torque converter and set down vertically.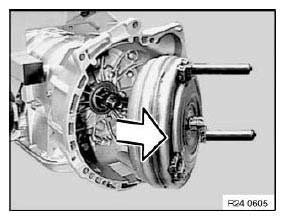 Fig. 71: Removing Torque Converter
Installation:
Push torque converter through shaft seal onto transmission shaft as far as it will go.
Press torque converter by hand into converter housing and turn in the process. Converter hub opening must snap into place in driver of pump impeller. Torque converter must be felt to slip inwards.
Determine distance between contact surface and surface (1) of tapped hole in torque converter with special tool 00 2 550.
NOTE: Measured value must be greater than 25 mm.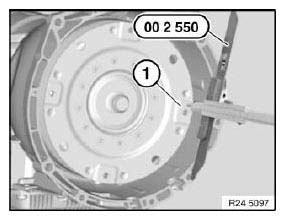 Fig. 72: Identifying Torque Converter With Special Tool (00 2 550)
READ NEXT:
Danger of poisoning! Ingesting oil or absorbing through the skin may cause poisoning! Possible symptoms are: Headaches Dizziness Stomach aches Vomiting Diarrhoea Cramps/fits Unconsciousness P
SEE MORE:
Special tools required: 00 9 317. 52 0 050. Necessary preliminary tasks: Remove front seat. Remove rear panel on front seat backrest. Detach plug connection (1) by twisting from backrest frame. Disconnect plug-in connection. Fig. 12: Detaching Plug Connection Release all retainers (1) on
Turning on/off and interrupting cruise control With steering and traffic jam assistant: Assisted Driving Mode General information This button is used to switch the configured function on and off. The button can be used to set the primarily used function. Set function When the system is active, pre