BMW X5: General Information On Braking In New Brake Discs / Brake Pads
IMPORTANT: After completing work:
Carry out function check on brake analyzer (test stand) to ensure that the brakes complies with legal requirements.
Carry out test braking while driving at low speed; the effectiveness of the brakes may be reduced during the initial braking operations.
Exaggerated drastic and continuous braking operations for faster braking in are not permitted.
Advise the customer not to perform any wilful drastic braking in the first 200 km after brake replacement.
Attach mirror tag to interior rearview mirror.
ELECTROMECHANICAL PARKING BRAKE - EMERGENCY RELEASE
Necessary preliminary tasks:
Open side trim panel in luggage compartment at rear left
Remove first aid pouch and warning triangle
IMPORTANT: Secure vehicle against rolling, e.g. with chocks.
Attach release tool (1) at release point (2).
Forcefully pull release tool against mechanical resistance upwards in direction of arrow until a clear increase in force can be felt and the parking brake can be clearly heard to release.
NOTE: Startup after power failure:
Switch ignition on
Press brake button with brake pedal depressed.
The indicator lamp in the instrument cluster goes out as soon as the parking brake is released.
OVERVIEW OF PARKING BRAKE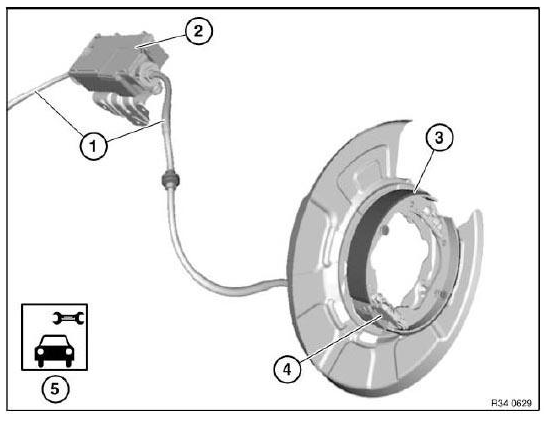 Fig. 82: Identifying Parking Brake Components
Handbrake Bowden Cables
Actuating unit with control unit
Handbrake shoes
Expander lock
Adjusting handbrake
READ NEXT:
The parking brake test must be carried out on the roller dynamometer as follows. Release position (engine off / ignition on ): Wheel circumferential force right / left < or = 300 N. Press park
Special tools required: 34 4 000. Installation: Remove rear brake disc. Release electromechanical parking brake (EMF). After completing tasks, adjust handbrake. Disconnect return springs (1)
Necessary preliminary tasks: Remove both brake discs. Set workshop mode in BMW diagnosis system. Path: Function selection Service functions Chassis Parking brake Workshop mode NOTE
SEE MORE:
Safety instructions --> Safety regulations for handling airbag modules, airbag components and pyrotechnical seat belt tensioners. --> Deactivation/activation pyrotechnical components. Handling electrical and electronic equipment --> Unlocking/locking airbag plug connections. --> Repair
General information The vehicle is fitted with five or seven safety belts to ensure occupant safety. However, they can only unfold their protective effect when adjusted correctly. Always make sure that safety belts are being worn by the occupants before driving off. The airbags supplement the safety