BMW X5: Selection lists
Concept
Lists can be displayed and, if necessary, used for certain functions in the instrument cluster or the Head-up Display.
Entertainment source.
Current audio source.
List of most recent telephone calls.
If necessary, the corresponding menu will open on the Control Display.
Display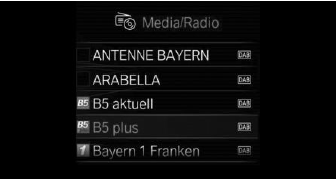 Depending on the equipment version, the list in the instrument cluster may differ from the illustration.
Displaying and using the list
The lists can be displayed and operated using the buttons on the steering wheel.

Change the entertainment source.
Pressing the button again will close the currently displayed list.

Show list of most recent telephone calls.

Turn the thumbwheel to select the desired setting.
Press the thumbwheel to confirm the setting.
The list of the current entertainment source can be displayed in the instrument cluster again by turning the thumbwheel.
READ NEXT:
Principle Values for the trip, such as the average consumption or trip kilometers, are displayed. General information The trip data can be displayed on the Control Display and in the instrument cluste
Concept The Sport displays especially support a sporty driving style. Display on the Control Display Overview The following information is displayed: Boost pressure. Engine oil temperature. G-Mete
Principle The Head-up display projects important information in the driver's field of view, for instance the speed. The driver can get information without averting his or her eyes from the road. Gene
SEE MORE:
Radio Buttons and functions Depending on the country and equipment version, the radio has the following buttons. Press: turns sound output on/ off. Turn: adjusts the volume. Change the entertainment source. Press once: changes the station/ track. Press and hold: fast forward/ rewind the track.
Read contents of Body, General. Spot-weld bonding is used on this vehicle. Observe specific procedure. Use only approved spot-welding apparatus for repairs! Remove or cover those vehicle components in the repair area which are susceptible to heat or dust. Following new body parts are required: