BMW X5: Replacing Cover For Left Or Right Front Seat
Special tools required:
Necessary preliminary tasks:
Remove front seat.
Remove rear panel on front seat backrest.
Remove inner cover on front seat.
WARNING: US/CDN front passenger seat (with OC3 mat) only: To avoid damaging the OC3 mat, it is essential to carry out the following operations with extra care.
When replacing seat cover:
If seat cover is defective, seat cover and padding with OC3 mat must be replaced together.
New seat cover is supplied with padding, OC3 mat and if necessary seat heating.
When replacing padding with OC3 mat: If OC3 mat or padding is defective, both parts may only be replaced together.
Both parts must be fitted with the seat cover from the vehicle.
Enabling seat occupancy detector (OC3 mat):
Connect BMW diagnosis system
Release seat occupancy detector
Clear fault memory if necessary
Remove cover (1) on front seat:
Press clip on door side outwards
Press clip on tunnel side upwards
Pull cover (1) forwards out of seat mechanism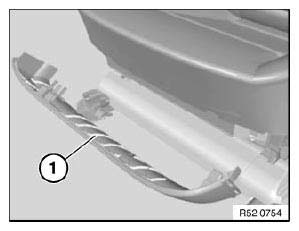 Fig. 49: Identifying Cover
Unhook seat cover on at all retaining points (1).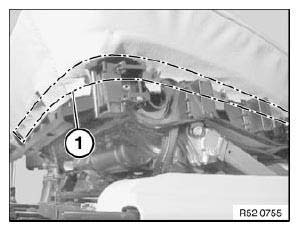 Fig. 50: Identifying Seat Cover Retaining Points
Unhook seat cover (1) in area (2).
If necessary, detach plug connections (3).
Remove seat cover (1) complete with support.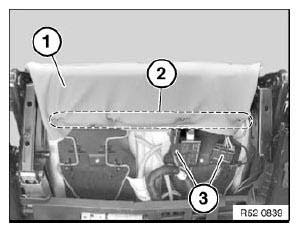 Fig. 51: Identifying Cover Area Connections
Replacing seat cover:
Version with OC3 mat:
OC3 mat must not be kinked under any circumstances.
Detach all retainers in side area from longitudinal wires (1).
Pull trim wires (1) forward out of seat cover.
Carefully fold back seat cover and release retainers from cross - wires (2).
Remove seat cover from padding.
IMPORTANT: Remove all remnants of clips from seat cover and padding.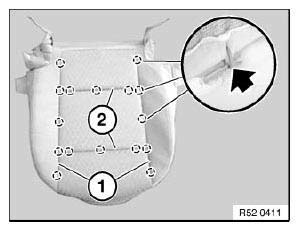 Fig. 52: Identifying Longitudinal Wires And Trim Wires
Padding (1) with OC3 mat (2).
IMPORTANT: No retainer remainders may be fitted as well.
Handle OC3 mat with extreme care.
Do not kink OC3 mat.
Do not clamp OC3 mat.
OC3 mat must lie without folds under seat cover.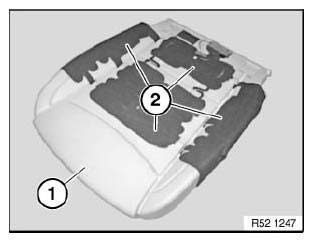 Fig. 53: Identifying Padding With OC3 Ma
Installation:
Bend new retainer (2) closed with pliers 52 0 050.
Padding
Clips
Trim wire in seat cover
Trim wire in padding
Seat cover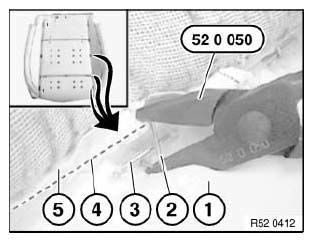 Fig. 54: Identifying Special Tool (50 0 050)
Remove trim threads (1) from seat cover (2).
(3) If necessary, cable for seat heating.
Installation:
Slide trim threads (1) into new seat cover (2). If necessary, cut mounting for trim threads.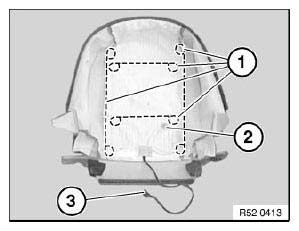 Fig. 55: Identifying Trim Threads And Seat Cover
READ NEXT:
Operation is identical to: Removing all trims on left or right seat rail. REMOVING AND INSTALLING/REPLACING GUIDE FOR FRONT LEFT OR RIGHT HEAD RESTRAINT Operation is identical to: Removing guide for
Necessary preliminary tasks: Move thigh support forwards fully Unfasten plug connection (1) and disconnect. Release screws (2). Installation: Insert screws (2) with Loctite. Fig. 61: Identifying
SEE MORE:
Settings Setting the voice control You can set the system to use standard dialog or a short version. The short version of the voice control plays back short messages in abbreviated form. 1. "CAR". 2. "Settings". 3. "General settings". 4. If necessary, "Personal assistant". 5. "Voice control".
REPLACING ALTERNATOR BELT PULLEY Special tools required: 12 7 110. Remove and install alternator drive belt. Depending on alternator type, grip shaft with: hexagon socket multi-tooth socket or Torx socket wrench Release nut with special tool 12 7 110. Installation: Tightening torque, 12 31