BMW X5: Removing And Installing / Replacing Master Brake Cylinder For DSC
Special tools required:
32 1 27032 1 270 PLUGS (SET)
Necessary preliminary tasks:
Remove expansion tank.
Read and comply with General Information.
After completing tasks, bleed brake system with DSC.
IMPORTANT: Do not bend brake lines.
Unfasten brake lines (2).
Unclip retaining bar (1) and remove both brake lines from guides.
Installation:
Tightening torque 34 32 1AZ.
Close off brake lines and brake master cylinder with plugs 32 1 270.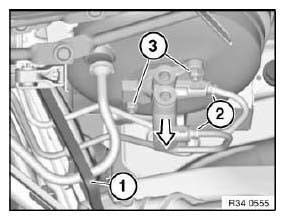 Fig. 65: Uncliping Retaining Bar
Release nuts (3) and feed brake master cylinder out of brake booster.
Installation:
Replace self-locking nuts.
Tightening torque 34 31 1AZ.
Installation:
Replace sealing ring.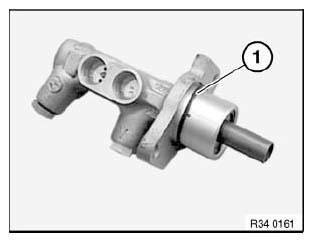 Fig. 66: Identifying Sealing Ring
Installation:
When inserting the brake master cylinder (2) into the brake booster (1), make sure the pressure rod of the brake booster and that of the brake master cylinder meet each other on one level.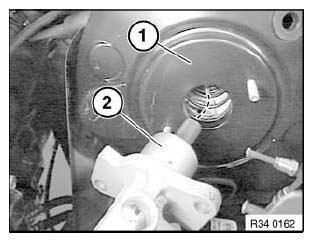 Fig. 67: Identifying Brake Master Cylinder And Brake Booster
READ NEXT:
OVERVIEW OF BRAKE LINES 1. Brake hose, front. 2. Brake tubes. 3. Brake hose, rear, to body. 4. Brake hose, rear, to wheel brake cylinder. REPLACING ALL BRAKE PIPES Special tools required: 34 5 100
REPLACING VACUUM HOSE FOR BRAKE BOOSTER (N52K) IMPORTANT: Before beginning work, fully press the brake pedal several times to reduce the vacuum pressure in the brake booster. This makes it easier to
REPLACING A BRAKE PAD SENSOR (FRONT) IMPORTANT: The brake pad wear sensor must be replaced once it has been removed (brake pad wear sensor loses its retention capability in the brake pad). If a brak
SEE MORE:
CONTENTS OF ENGINE ELECTRICAL SYSTEM GENERAL General Information -> Working on ignition system. -> Removing and installing electronic control units. -> Welding work (overload protection of control units). -> Disconnecting and connecting battery. -> External jump-starting aid. INSTRUCT
Necessary preliminary tasks: Remove mechanism for glass cover at front. Overview of glass lid mechanism: Fig. 1: Identifying Glass Lid Mechanism Components Floating roofliner mechanism Mechanism, front glass lid Drive wedge Drive plate Mechanism, rear glass lid Control carriage, rear gla