BMW X5: Removing And Installing Outer Upper Rail Trim With Electric Anchor Fitting Tensioner (From 04/2004)
Driver's seat only:
NOTE: Version with anchor fitting tensioner from 04/2004.
Lever trim (3) out of seat mechanism:
upwards,
slide towards rear
and feed out of anchor fitting tensioner.
Installation:
Secure plug connection with felt strip against unlocking.
Lock on plug connection to anchor fitting tensioner can be unlocked when trim is fitted.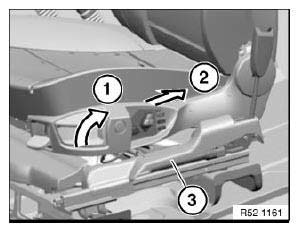 Fig. 21: Identifying Trim
REMOVING AND INSTALLING/REPLACING GUIDE FOR FRONT LEFT OR RIGHT HEAD RESTRAINT
Necessary preliminary tasks:
Remove head restraint.
Remove rear panel on front seat backrest.
Pull backrest cover (1) in direction of arrow over metal lugs (2) and detach.
If necessary, detach backrest cover on both sides from backrest frame.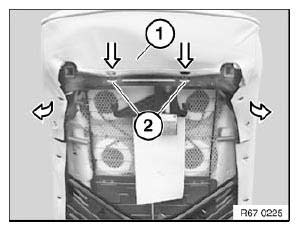 Fig. 22: Pulling Backrest Cover
Unlock catches (1) and remove guide (2) towards top.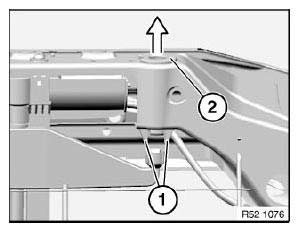 Fig. 23: Identifying Catches And Guide
READ NEXT:
Necessary preliminary tasks: Remove front head restraint. WARNING: Read and comply with safety regulations for handling airbag modules and pyrotechnical belt pretensioners. Improper handling can l
Necessary preliminary tasks: Remove front seat. Remove lower strap (belt tensioner). Remove drive unit for longitudinal seat adjustment. WARNING: Read and comply with safety regulations for hand
Necessary preliminary tasks: Remove front seat. Remove seat cover with padding for front seat. Release screws (1). Tip seat towards rear. Installation: Tightening torque 52 10 6AZ. Fig. 36: Ide
SEE MORE:
General information The battery is maintenance-free. More information about the battery can be requested from a dealer's service center or another qualified service center or repair shop. Safety information DANGER Contact with live components can lead to an electric shock. There is a risk of injury
1. Opening spot-weld bonds Set punch mark in center of weld spot. Set 8 mm dia. weld spot drill bit on punch mark and drill through top metal sheet. Or open weld spot with Vario Drill spot welding cutter (refer to WORKSHOP EQUIPMENT & PLANNING CD, Chapter 7). NOTE: Because the weld spo