BMW X5: Replacing Gas Cartridge For Active Head Restraint On Left Or Right Front Seat
WARNING: Read and comply with safety regulations for handling airbag modules and pyrotechnical belt tensioners.
Improper handling can lead to triggering of the pyrotechnical seat belt tensioner or side airbag, resulting in injuries.
Switch off ignition!
Necessary preliminary tasks:
Remove head restraint.
Remove rear panel on front seat backrest.
Disconnect plug connection on gas cartridge.
Detach retaining points (1).
Slide active head restraint carrier downwards.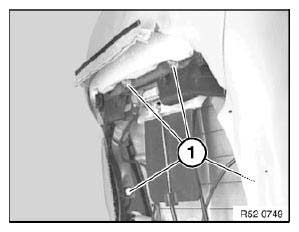 Fig. 110: Identifying Retaining Points
Release spring clips (1) and (2).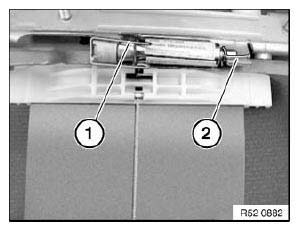 Fig. 111: Identifying Spring Clips
Release screws (1).
Remove gas cartridge complete with holder (2).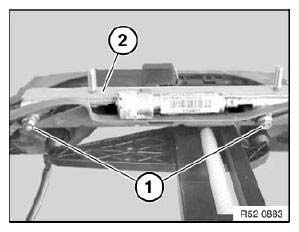 Fig. 112: Identifying Gas Cartridge With Holder
Release screws (1) on left and right.
Installation:
Insert screws (1) with Loctite.
Tightening torque 52 12 03AZ. Slide top rail (3) off bottom rail (2).
Remove gas cartridge (4).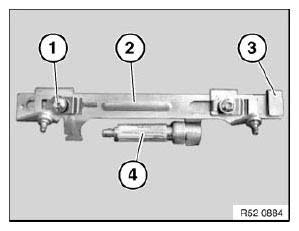 Fig. 113: Identifying Gas Cartridge And Rail
Installation:
Gas cartridge (1) is secured in holder by guide lug (2).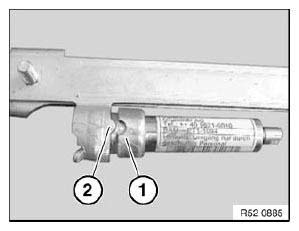 Fig. 114: Identifying Gas Cartridge And Guide Lug
Procedure after triggered active head restraint:
Push head restraint back into original position.
Insert new gas cartridge with spring clips.
NOTE: The gas cartridge may be replaced up to 5 times.
Then the backrest must be replaced.
Number of triggerings are stored in the control unit.
REMOVING AND INSTALLING/REPLACING FRONT LEFT OR RIGHT HEAD RESTRAINT (COMFORT)
Move headrest up as far as possible.
Pull out forcefully.
Installation:
Position adjustment drive briefly before upper stop.
Press in head restraint until it clicks audibly into place (on right and left).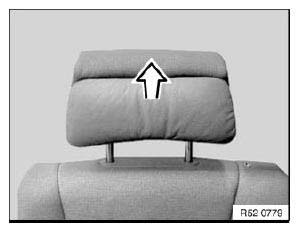 Fig. 115: Pulling Headrest
READ NEXT:
Special tools required: 00 9 317. 52 0 050. Necessary preliminary tasks: Remove front seat. Remove both rear panels on front seat backrest. Remove inner cover on front seat. Remove thigh
WARNING: US/CDN front passenger seat (with OC3 mat) only: The padding can only be removed in conjunction with the OC3 mat. If padding is defective, both parts may only be replaced together. After fit
SEE MORE:
REMOVING AND INSTALLING OR REPLACING DSC HYDRAULIC UNIT Necessary preliminary tasks: Read and comply with General Information. Extract brake fluid NOTE: Extract brake fluid out of expansion tank. Use a suction bottle used exclusively for drawing off brake fluid. Do not reuse drawn out brake fl
Before A/C efficiency test, satisfy following conditions: 1. Provide a MoDiC or DIS. Safeguard electrical system integrity by checking the fault memory (no faults in the fault memory). 2. Provide a thermometer with separate gauge. 3. Perform the test in a suitable work bay with an ambient temperat