BMW X5: Removing And Installing Left Or Right Front Seat
Necessary preliminary tasks:
Remove front head restraint.
WARNING: Read and comply with safety regulations for handling airbag modules and pyrotechnical belt pretensioners.
Improper handling can lead to triggering of the pyrotechnical seat belt pretensioner or side airbag, resulting in injuries.
Switch off ignition! Move front seat upwards.
Release screw (1) on front seat.
Installation:
Replace screw.
Tightening torque 72 11 02 AZ.
Feed out belt anchor fitting (2).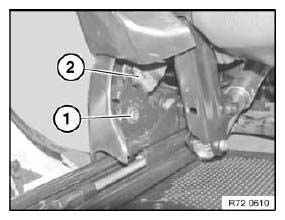 Fig. 24: Identifying Belt Anchor Fitting Screw
Move front seat forwards.
Release screws.
Installation:
Replace screws.
Tightening torques 52 10 01 AZ.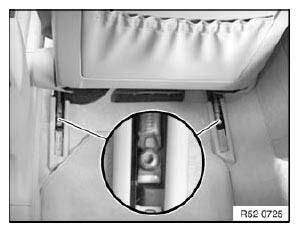 Fig. 25: Identifying Front Seat Screw
Removing cover on left and right: Move front seat towards rear.
Carefully raise lug (1).
At same time, unlock inner side (2) in direction of arrow.
Remove cover in direction of arrow towards front.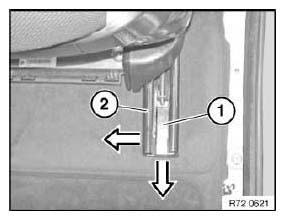 Fig. 26: Raising Lug
Release bolts (1).
Installation:
Replace screws.
Tightening torque 52 10 01AZ.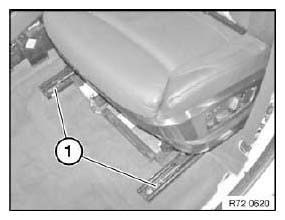 Fig. 27: Identifying Bolts
Installation:
Carpet must not project between seat rail and floor board in area of screw-down points (grinding noises).
Unclip cover (1) towards front.
Unfasten plug connection (2) and disconnect.
Unclip wiring harness from seat mechanism.
IMPORTANT: Cover door sill with protective covers (risk of damage).
Lift out front seat.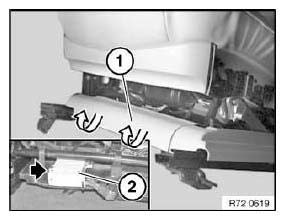 Fig. 28: Uncliping Cover
Installation:
Make sure wiring harness is correctly routed in order to avoid grating noises, jamming or collisions.
Clip in cable holder for wiring harness.
Lay wiring harness only in area (1) of cover.
Fitting the wiring harness between the carpet and the cover in control unit area (2) will result in grating noises.
Carry out a complete longitudinal adjustment (forward/back) with front seat.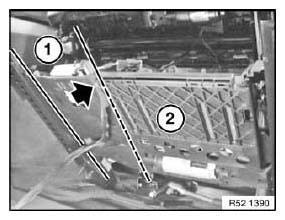 Fig. 29: Identifying Control Unit Area Cover
REMOVING AND INSTALLING/REPLACING BOTH SEAT RAILS ON LEFT OR RIGHT FRONT SEAT (NORMAL/ELECTRIC)
READ NEXT:
Necessary preliminary tasks: Remove front seat. Remove lower strap (belt tensioner). Remove drive unit for longitudinal seat adjustment. WARNING: Read and comply with safety regulations for hand
Necessary preliminary tasks: Remove front seat. Remove seat cover with padding for front seat. Release screws (1). Tip seat towards rear. Installation: Tightening torque 52 10 6AZ. Fig. 36: Ide
Special tools required: 52 0 050. Necessary preliminary tasks: Remove rear panel on front seat backrest. Fig. 43: Identifying Backrest Cover Detach backrest cover (1) at bottom from backrest fr
SEE MORE:
Necessary preliminary tasks: Remove rest side section. Disengage cover in marked area from rest side section. Fig. 150: Identifying Cover Marked Area REMOVING AND INSTALLING/REPLACING LEFT OR RIGHT REAR SEAT (FOR 3RD SEAT ROW) Right rear seat is removed in the same way as the left rear seat depi
WARNING: Avoid contact with refrigerant and refrigerant oil. Follow safety instructions for handling R 134a refrigerant. Follow safety instructions for handling refrigerant oil. CAUTION: Always use new O-rings each time A/C connections are opened. Moisten O-rings with refrigerant oil pr