BMW X5: Removing And Installing Or Replacing Expansion Valve
WARNING: Avoid contact with refrigerant and refrigerant oil.
Follow safety instructions for handling refrigerant R 134a.
Follow safety instructions for handling refrigerant oil.
IMPORTANT: Risk of damage! Restart engine only when A/C system has been correctly filled.
Follow instructions for opening and replacing parts in refrigerant circuit! If A/C system is opened for more than 24 hours: Replacing drier insert for A/C system
Necessary preliminary tasks:
Remove double pipe.
Drawing off, evacuating and filling the A/C system are not included in the time value given for this work operation.
Remove gasket (1).
Installation:
Observe direction arrows (2) without fail.
If necessary, replace damaged seal (1).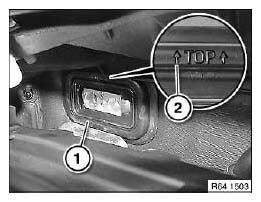 Fig. 88: Identifying Gasket Positions
Release screws (1) and carefully remove expansion valve (2).
Replace sealing rings and moisten with refrigerant oil.
Tightening torque.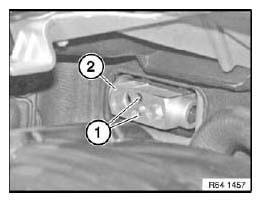 Fig. 89: Identifying Expansion Valve Screws
After installation:
Evacuate and fill A/C system.
READ NEXT:
Special tools required: 64 5 104 64 5 108 Necessary preliminary tasks: Remove expansion valve. Replace sealing rings (1) and coat with refrigerant oil. Fig. 90: Identifying Sealing Rings Moun
WARNING: Avoid contact with refrigerant and refrigerant oil. Follow safety instructions for handling R 134a refrigerant. Follow safety instructions for handling refrigerant oil. CAUTION: A
SEE MORE:
Principle The Automatic Parking Assistant supports the driver in the following situations: When parking parallel to the road, parallel parking. When parking in reverse perpendicular to the road, perpendicular parking. The system orients itself with the middle of the parking space. Depending
The onboard vehicle tool kit is located under the cargo floor panel. Wiper blades Safety information NOTICE The window may sustain damage if the wiper falls onto it without the wiper blade installed. There is a risk of damage to property, among other potential damage. Hold the wiper firmly when ch