BMW X5: Head-Up Display
REMOVING AND INSTALLING/REPLACING TRIM FOR HEAD-UP DISPLAY
Special tools required:
Lever out trim for head-up display (1) with special tool 00 9 317 towards top.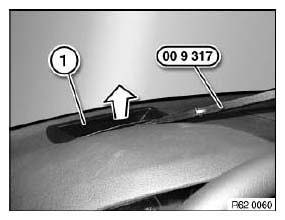 Fig. 2: Removing Lever
Installation:
Make sure detent lugs (1) are correctly seated.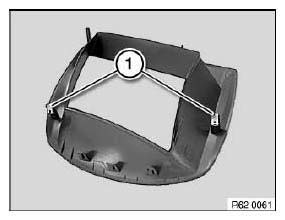 Fig. 3: Identifying Detent Lugs
REMOVING AND INSTALLING/REPLACING HEAD - UP DISPLAY
IMPORTANT: Read and comply with notes on protection against electrostatic damage (ESD protection).
IMPORTANT: Comply with notes and instructions on handling optical waveguides.
Necessary preliminary tasks:
Remove instrument panel trim.
Remove foam seal (1) from head-up display.
Disconnect plug connection (2).
Release screws (3).
Tightening torque 62 30 2AZ. Carefully feed out head-up display towards top.
Installation:
Clean head-up display lens.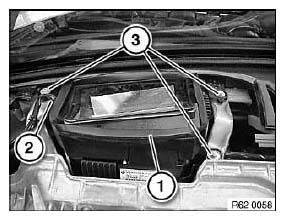 Fig. 4: Identifying Plug Connection And Seal
Replacement:
Carry out programming/coding.
ADJUSTING HEAD-UP DISPLAY
Connect vehicle to BMW diagnosis system.
Select service function under following path:
Service function
Body
Display and information functions
Head-up display
Adjusting head-up display
NOTE: The geometric representation of the head-up display can be adjusted with the service function.
READ NEXT:
TEST REQUIREMENTS FOR HEADLIGHT VERTICAL AIM ADJUSTMENT Car parked on level ground. Replace faulty glass and mirrors and blackened light bulbs. Check tire pressure and correct if necessary. Apply
REMOVING AND INSTALLING/REPLACING LEFT HEADLIGHT Operation is described in: Removing and installing/replacing left headlight (adaptive headlight). REMOVING AND INSTALLING/REPLACING RIGHT HEADLIGHT Ope
SEE MORE:
REMOVING AND INSTALLING/REPLACING LEFT OR RIGHT SWIVEL BEARING Necessary preliminary tasks: Remove wheel bearing. IMPORTANT: Secure swivel bearing against falling out. Replacement only: Remove brake anchor plate/brake guard plate. Remove stabilizer link from swivel bearing. Remove upper control a
Special tools required: 31 4 160 Necessary preliminary tasks: Remove left output shaft. Lever shaft seal (1) out of front differential with a screwdriver (2). Fig. 113: Identifying Shaft Seal And Screwdriver Installing shaft seal: NOTE: The installation protective ring (1) serves to protect t