BMW X5: Displays, control elements
In the vicinity of the steering wheel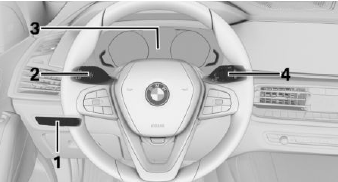 Light switch element
Turn signal indicator, high beams
Instrument cluster
Wipers
Indicator/warning lights
The indicator/warning lights can light up in a variety of combinations and colors.
Several of the lights are checked for proper functioning and light up temporarily when drive-ready state is turned on.
Driver's door
Safety switch
Power windows
Central locking system
Exterior mirrors
Seats, comfort features
Opening/closing the tailgate
Switch console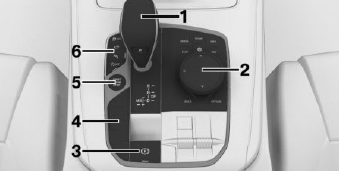 Selector lever
Controller
Parking brake, Automatic Hold
Driving Dynamics Control
Start/Stop button
Assistance systems
iDrive
Principle
iDrive is the operating concept of the infotainment system and includes a large number of functions.
Buttons on the Controller

Go to the main menu.

Go to Apps menu.

Go to the Media/Radio menu.

Go to the Communication menu.

Go to navigation map.

Go to destination input menu for navigation.

Go to the previous display.

Go to the Options menu.
Voice control
Activating the voice control system

Press the button on the steering wheel.
Say the command.
Ending voice control

Press the button on the steering wheel or ›Cancel‹.
READ NEXT:
Electrically adjustable seats Backrest width Thigh support Forward/backward, height, seat tilt Upper backrest Backrest tilt, head restraint Lumbar support Adjusting the head restraint Adjusti
Radio Buttons and functions Depending on the country and equipment version, the radio has the following buttons. Press: turns sound output on/ off. Turn: adjusts the volume. Change the entertainmen
SEE MORE:
WARNING: Avoid contact with refrigerant and refrigerant oil. Follow safety instructions for handling refrigerant R 134a. Follow safety instructions for handling refrigerant oil. IMPORTANT: Risk of damage! Restart engine only when A/C system has been correctly filled. If A/C system is opened for mo
Read contents of Body, General. The steel-aluminum mixed construction is used on the vehicle. Observe specific procedure. Remove or cover those vehicle components in the repair area which are susceptible to heat or dust. Use only approved spot-welding apparatus for repairs. Place vehicle on str