BMW X5: Bolts
Although, the N54 engine has an all aluminum crankcase, many of the bolts are still aluminum as on the N52.
This is to reduce any potential confusion between steel and aluminum bolts. Some bolts, for example, are steel such as the cylinder head cover bolts. This is possible, due to the plastic cylinder head cover.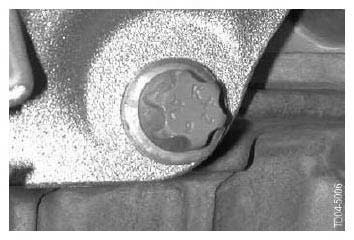 Fig. 11: Identifying Bolt
The N52KP and N51 engines use the same aluminum bolt configuration as the N52 engine, with little change.
The cylinder head cover bolts are like the N54 - steel, due to the plastic cylinder head cover.
The same rules apply to the handling of aluminum bolts as in the past.
Strict adherence to repair instructions is required to ensure proper connections.
Be sure to follow the proper torque/tightening angle sequence as outlined in the "tightening torques" section of TIS.

Fig. 12: Identifying Aluminum Bolt
READ NEXT:
As stated before, the cylinder head cover used on all of the new NG6 engines is made from plastic. However, the design differs between the engines due to engine equipment. For example, the N54 engi
The valvetrain on the N52 introduced in 2006, used 5 mm valve stems on both the intake and exhaust. To increase durability, the exhaust valve stems were increased to 6 mm from 6/06 production. All
Head Gasket The head gasket design on the N54 is unique to that engine. It features a multi-layer steel design. There is no silicone rubber perimeter "shelf" as on the N52. This is not needed due to
SEE MORE:
Special tools required: 31 4 151 31 4 152 31 4 153 IMPORTANT: For reasons of driving dynamics, the rubber mounts may only be replaced in pairs (refers to left and right control arms)! Necessary preliminary tasks: Check ball joint of both control arms while installed, replace lower control
REPLACING SELECTOR SHAFT SEAL (GA6HP26Z) Special tools required: 24 5 361 24 5 362 24 5 364 24 5 366 IMPORTANT: After completion of work, check transmission fluid level. Use only the approved transmission fluid. Failure to comply with this requirement will result in serious damage to the aut