BMW X5: Antilock Braking System ABS
The Antilock Braking System (ABS) prevents locking of the wheels during braking.
The vehicle maintains its steerability even during emergency braking, which increases the active driving safety.
ABS is operational every time you start the engine.
Brake assistant
The Brake Assistant effects maximum braking assistance when the brake is applied quickly. It reduces the braking distance to a minimum during emergency braking. The advantages of the Antilock Braking System (ABS) are thereby utilized.
Do not reduce the pressure on the brake pedal for the duration of emergency braking.
Adaptive brake assistant
In combination with Active Cruise Control ACC, this system ensures that the brakes respond even more rapidly when braking in critical situations.
Drive-off assistant
Principle
The drive-off assistant supports driving off on uphill grades.
Driving off
1. Hold the vehicle in place with the foot brake.
2. Release the foot brake and drive off without delay.
After the foot brake is released, the vehicle is held in place for approx. 2 seconds.
Depending on the vehicle loading or when a trailer is used, the vehicle may roll back slightly.
DSC Dynamic Stability Control
Principle
The Dynamic Stability Control (DSC) helps to keep the vehicle on a steady course by reducing drive power and by brake intervention on individual wheels.
General information
DSC detects the following unstable driving conditions, for instance:
Skidding, which can lead to oversteering.
Loss of adhesion of the front wheels, which can lead to understeering.
Safety information
Warning
The system cannot serve as a substitute for the driver's personal judgment in assessing the traffic situation. Based on the limits of the system, it cannot independently react to all traffic situations. There is a risk of accident. Adjust driving style to traffic conditions. Watch traffic closely and actively intervene where appropriate.
Warning
When driving with a roof load, for instance with roof-mounted luggage rack, the vehicle's center of gravity is higher, which increases the risk of the vehicle tipping in critical driving situations.
There may be a risk of accident or risk of damage to property. Driving with roof load only with activated Dynamic Stability Control.
Overview
Button in the vehicle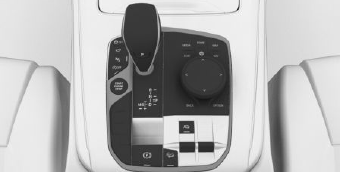 DSC OFF
Deactivating/activating DSC
General information
When DSC is deactivated, driving stability is reduced during acceleration and when driving in curves.
To increase driving stability, activate DSC again as soon as possible.
Deactivating DSC

Hold the button down until DSC OFF is displayed in the instrument cluster and the DSC OFF indicator light is illuminated.
Activating DSC

Press the button.
DSC OFF and the DSC OFF indicator light turn off.
Display
In the instrument cluster
When DSC is deactivated, DSC OFF is displayed in the instrument cluster.
Indicator/warning lights

The indicator light lights up: DSC is deactivated.

The indicator light flashes: DSC controls the drive and braking forces.
The indicator light lights up: DSC has malfunctioned.
READ NEXT:
Principle Dynamic Traction Control (DTC) is a version of the Dynamic Stability Control (DSC) where drive power is optimized. The system ensures maximum drive power on unusual road conditions, for ins
Principle xDrive is the all-wheel-drive system of the vehicle. Concerted action by the xDrive and and other suspension control systems, such as Dynamic Stability Control (DSC), further optimizes tra
Principle HDC Hill Descent Control is a downhill control feature that controls the vehicle speed on steep downhill grades, for instance when driving on unpaved roads. General information When the syst
SEE MORE:
Special tools required: 32 1 260 NOTE: The work steps are show on assorted components. Ear clip must always be replaced. To remove an ear clip, place special tool 32 1 260 at right angles to ear and cut ear open. Fig. 70: Identifying Special Tool (32 2 160) The ear clip can be fitted not only
Air quality General information The air quality in the interior is improved by the following components: Emission tested passenger compartment. Interior filter. Air conditioning system to control the temperature, air flow and recirculated-air mode. Pre-ventilation. Ionizer. Fragrancing. Aut