BMW X5: With Parking Assistant Plus: Surround View
Principle
Surround View supports the driver in parking and maneuvering. The area around the vehicle is shown on the Control Display.
General information
Several cameras capture the area from different selectable perspectives.
The following camera perspectives can be displayed:
Automatic camera perspective: the system shows the camera perspective suitable for the respective driving situation.
Rearview camera: for representing the areas behind the vehicle.
Right-hand and left-hand side view: for representing the areas on the sides of the vehicle.
Unobstructed camera perspective, movable via iDrive.
Panorama View: to present cross traffic, for instance at junctions and driveways, depending on the currently engaged gear.
Depending on the view, the vehicle's surroundings or a part of it is depicted.
Additionally, assistance functions are shown in the display, e.g., help lines.
More than one assistance function can be active at the same time.
Some assistance functions can be manually activated.
The following assistance functions are automatically displayed:
Side parking aid.
Door opening angle.
Safety information
Warning
The system cannot serve as a substitute for the driver's personal judgment in assessing the traffic situation. Based on the limits of the system, it cannot independently react to all traffic situations. There is a risk of accident. Adjust driving style to traffic conditions. Watch traffic and vehicle surroundings closely and actively intervene where appropriate.
Overview
Buttons in the vehicle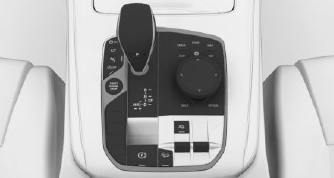 Park assistance button

Panorama View
Sensors
The system is controlled by the following sensors:
Front camera.
Top view cameras.
Rearview camera.
Turning on/off
Turning on automatically
The system is switched on automatically if selector lever position R is engaged when the engine is running.
The camera perspective suitable for the respective driving situation is displayed.
Switching on/off manually

Press the park assistance button.
On: the LED lights up.
Off: the LED goes out.
Depending on the equipment version, the rearview camera cannot be switched off when the reverse gear is engaged.
Automatic deactivation during forward travel
The system switches off when a certain driving distance or speed is exceeded.
Switch the system back on, if needed.
READ NEXT:
Display on the Control Display Overview Toolbar, left Camera image Side view Automatic camera perspective Movable unobstructed camera perspective Toolbar, right Rearview camera Selection win
Principle Panorama View gives you an earlier view of crossing traffic at blind driveway exits and intersections. General information Road users concealed by obstacles to the left and right of the veh
Principle The BMW app and the pictures of the Surround View cameras in combination with the corresponding equipment enable the display of the vehicle's surroundings on a mobile device. The function d
SEE MORE:
General information The installation of the upgrade may result in a deletion of software changes such as performance increases that have not been installed by the manufacturer of the vehicle. The installation may take approx. 20 minutes. The installation cannot be terminated. The vehicle can
The DISplus/GT-1 are helpful in pinpointing the cause of an engine misfire. Once the short test is completed, the fault memory of the ECM can be read out to determine which cylinder or cylinders have set misfire faults. There may or may not be any faults present. The engine could be running rough