BMW X5: Ultrasound sensors
Ultrasound sensors in the front/ rear bumpers

The ultrasound sensors of the Park Distance Control PDC are located in the bumpers.
Ultrasonic sensors, side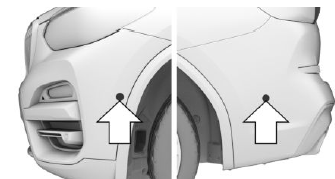 The ultrasound sensors of the Automatic Parking Assistant are located on the side of the vehicle.
System limits of the ultrasonic sensors
The detection of objects with ultrasonic measurements can run into physical limits, e.g., in the following situations:
In case of dirty sensors.
In case of covered sensors, such as due to labels.
If the sensor is not aligned correctly, for instance due to parking damage.
After improper paint work on the vehicle in the area of the sensors.
For small children and animals.
For persons with certain clothing, for instance jacket.
In case of external interference of the ultrasound, for instance from passing vehicles, loud machines or other ultrasonic sources.
Under certain weather conditions, e.g., high relative atmospheric humidity, wet conditions, snowfall, cold, extreme heat, or strong wind.
With tow bars and trailer couplings of other vehicles.
With thin or wedge-shaped objects.
With moving objects.
With elevated, protruding objects such as ledges.
With objects with corners, edges, and smooth surfaces.
With objects with a fine surface structure such as fences.
For objects with porous surfaces.
With small and low objects, for instance boxes.
With soft obstacles or obstacles covered in foam material.
With plants and bushes.
In automatic car washes.
On uneven surfaces, such as speed bumps.
Due to heavy exhaust.
Cargo that extends beyond the perimeter of the vehicle is not taken into account by the ultrasonic sensors.
When the trailer hitch cover is not on straight.
If applicable, a Check Control message will be displayed when the system limits are reached.
READ NEXT:
Depending on the situation, the vehicle is in one of the three states: Idle state. Standby state. Drive-ready state. Idle state Principle When the vehicle is in idle state, it is switched off. Ge
Principle Turning on drive-ready state corresponds to starting the engine. General information Some functions, such as DSC Dynamic Stability Control, can only be used with drive-ready state switched o
SEE MORE:
IMPORTANT: Danger of scalding! Only perform this work after engine has cooled down. Necessary preliminary tasks: Remove underbody protection. Recycling Transmission fluid emerges when oil lines are detached from heat exchanger. Catch and dispose of escaping transmission fluid. Observe country-
REPLACING SOCKET HOUSING FOR LEFT OR RIGHT REAR LIGHT WARNING: Follow instructions for handling light bulbs (exterior lights). Rear light in side panel: Remove flap in luggage compartment trim panel. Turn socket housing and pull out of rear light. NOTE: Bulb, adaptive brake light Bulb, reversin