BMW X5: Transmission Case, Oil
REMOVING AND INSTALLING/SEALING OR REPLACING TRANSMISSION SUMP (GA6HP26Z)
IMPORTANT: Remove transmission sump only after it has cooled down.
After completion of work, check transmission oil level. Use only the approved gear oil.
Failure to comply with this requirement will result in serious damage to the automatic transmission!
Necessary preliminary tasks:
Remove assembly underside protection.
Remove heat shields
Remove oil drain plug (1).
Tightening torque.
Drain automatic transmission fluid.
Installation:
Replace oil drain plug.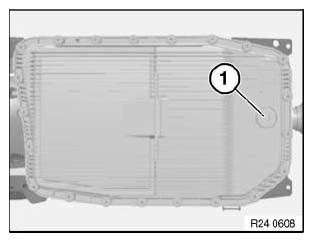 Fig. 24: Identifying Oil Drain Plug
Recycling:
Catch and dispose of escaping transmission fluid.
Observe country-specific waste-disposal regulations.
Unscrew all bolts.
Remove transmission sump (1).
Installation:
Insert screws (2) until screw heads make contact.
Insert all further screws in diagonal sequence from inside to outside until screw heads make contact.
Tightening torque.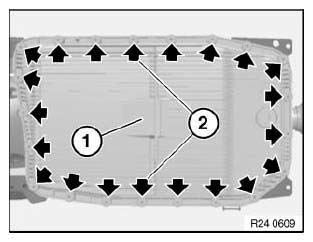 Fig. 25: Locating Transmission Sump Screws
Remove gasket (1) from transmission sump.
Clean transmission oil sump to remove residual oil.
Clean sealing faces and groove with a cloth.
Insert new gasket in transmission sump groove.
IMPORTANT: Do not degrease transmission sump with cleaning agent.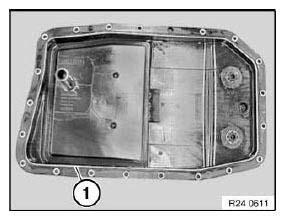 Fig. 26: Identifying Gasket
Replace sealing ring (1) on oil filter tube.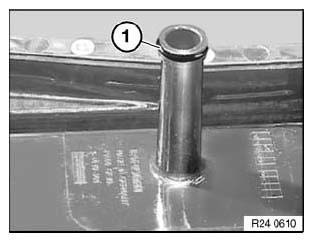 Fig. 27: Identifying Sealing Ring On Oil Filter Tube
Installation:
The gasket is correctly installed when it is engaged in the locating opening of the transmission sump.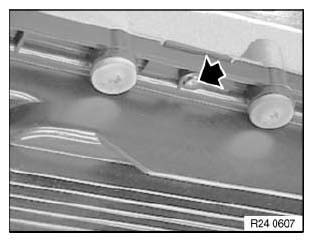 Fig. 28: Locating Opening Of Transmission Sump
READ NEXT:
REPLACING TORQUE CONVERTER SHAFT SEAL (GA6HP26Z) Special tools required: 00 1 450 24 0 200 24 2 351 24 2 352 24 2 353 24 2 360 Necessary preliminary tasks: Remove automatic transmission. IM
REPLACING OUTPUT FLANGE SHAFT SEAL (GA6HP26Z) Special tools required: 23 0 490 24 4 310 IMPORTANT: After completion of work, check transmission fluid level. Use only the approved transmission flui
REPLACING SELECTOR SHAFT SEAL (GA6HP26Z) Special tools required: 24 5 361 24 5 362 24 5 364 24 5 366 IMPORTANT: After completion of work, check transmission fluid level. Use only the approved t
SEE MORE:
REMOVING AND INSTALLING/REPLACING OIL PUMP (N62) Necessary preliminary tasks: Drain engine oil. Remove upper oil sump section. Remove reinforcement plate. Unscrew nut (1). Tightening torque 11 41 4AZ. Remove oil pump sprocket wheel (2). Fig. 709: Identifying Oil Pump Sprocket Wheel Release
Window safety switch Power windows Exterior mirror adjustment button Central locking system Unlocking Locking Seating comfort features Front passenger seat functionality Memory function Massage function Opening and closing the tailgate Steering column stalk, left Turn