BMW X5: Stabilizer Bar
REMOVING AND INSTALLING/REPLACING FRONT STABILIZER
Necessary preliminary tasks:
Remove front wheels
Remove front underbody protection
Remove front right wheel arch cover (front section)
Remove radiator air duct
Remove right brake air duct with holder
Remove heat exchanger from front axle carrier and tie up.
Disconnect pressure line for power steering from front axle carrier
Remove both stabilizer links from stabilizer
Release screws (1).
Remove both retaining brackets of stabilizer (2).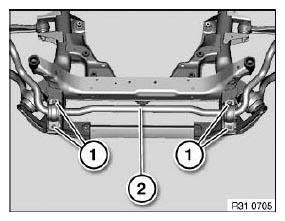 Fig. 98: Identifying Retaining Brackets Of Stabilizer And Screws
Installation:
Align retaining bracket (1) so that tapped holes are situated in middle of elongated hole.
Tightening torque.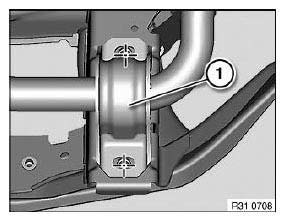 Fig. 99: Identifying Retaining Bracket
Remove radiator box from engine carrier, extend out, press upwards and support with workshop jack.
IMPORTANT: Do not damage coating of stabilizer.
Remove stabilizer towards front.
Installation:
Check rubber mounting of radiator box for correct seating.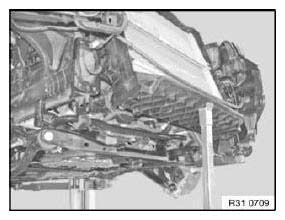 Fig. 100: Identifying Radiator Box
REMOVING AND INSTALLING/REPLACING PUSH ROD (STABILIZER LINK) FOR LEFT/RIGHT STABILIZER
IMPORTANT: Observe safety when raising the vehicle.
Do not mix up stabilizer links
Stabilizer link for conventional stabilizer
Stabilizer link for active stabilizer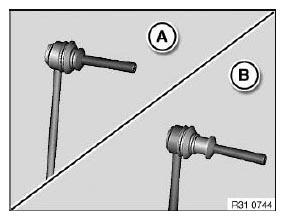 Fig. 101: Identifying Stabilizer Link For Conventional And Active Stabilizer
Unscrew nut (1).
Installation:
Replace self-locking nut.
Tightening torque.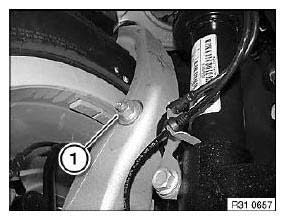 Fig. 102: Identifying Self-Locking Nut
Unscrew nut (1).
Remove stabilizer link (2).
Installation:
Replace self-locking nut.
Tightening torque.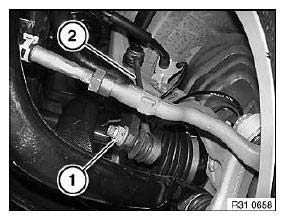 Fig. 103: Identifying Stabilizer Link And Nut
READ NEXT:
WARNING: Danger of poisoning if oil is ingested/absorbed through the skin! Risk of injury if oil comes into contact with eyes and skin! IMPORTANT: Use only the approved front differential oil in this
WARNING: Danger to life! Mount securing fixture for vehicle on lifting platform to prevent the vehicle from slipping off or tilting down. Secure engine in installation position to prevent it from fal
SEE MORE:
Necessary preliminary tasks: Remove left microfilter housing cover. IMPORTANT: When replacing or repairing, observe the filling and bleeding instructions for the following parts: Tandem brake master cylinder Hydraulic unit Components and connecting lines which are fitted between these assem
General information Moving parts need to begin working together smoothly. The following instructions will help you to achieve a long vehicle life and good efficiency. During break-in, do not use the Launch Control. Safety information Warning Due to new parts and components, safety and driver assis