BMW X5: Shift lights
Principle
The Shift lights in the instrument cluster indicate the maximum shift point at which the best possible acceleration can be achieved.
General information
Depending on the equipment and national-market version, the Shift lights are active in the M manual mode of the Steptronic Sport transmission and with manual transmission.
Functional requirement
Depending on the equipment, either driving program SPORT or SPORT PLUS is activated.
Head-up display is switched off or the display of the Shift lights in the Head-up display is deactivated.
Turning on/turning off
Steptronic Sport transmission:
1. If applicable, select SPORT or SPORT PLUS driving mode.
Press Driving Dynamics Control.
2. Activate the M manual mode of the transmission.
Display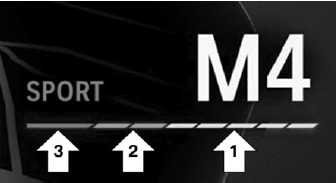 Full Black Panel Display.
Information about the driving style
Current engine speed is displayed in the tachometer.
Arrow 1: successive yellow illuminated fields indicate an increase in the speed.
Arrow 2: successive orange illuminated fields indicate the upcoming shift moment.
Arrow 3: the field lights up red. Do not wait any further to shift.
When the maximum speed is reached, the entire display flashes red and the fuel supply is interrupted in order to protect the engine.
Standby state and driveready state

The lettering OFF in the instrument cluster indicates that driveready state is switched off and standby state is switched on.

The letters READY in the instrument cluster indicate that the drive readiness is turned on and the Auto Start/Stop function is ready to start the engine automatically.
Additional information:
Operating state of the vehicle.
Engine oil temperature
Display
Additional information: Coolant level.
Indicator light in the instrument cluster

A red indicator light is displayed.
Outside temperature
General information
If the indicator drops to +37 ℉/+3 ℃ or lower, a signal sounds.
A Check Control message is displayed.
There is an increased risk of ice on roads.
Safety information
Warning
Even at temperatures above +37 ℉/+3 ℃ there can be a risk of icy roads, for instance on bridges or shady sections of the road. There is a risk of accident. Modify your driving style to the weather conditions at low temperatures.
READ NEXT:
Principle The range indicates the distance that can still be covered with the current full tank of fuel. General information The estimated range available with the remaining fuel is permanently displa
Principle Speed Limit Info shows the currently valid speed limit in the instrument cluster and, if necessary, the Head-up Display. General information The camera in the area of the interior mirror det
Concept Lists can be displayed and, if necessary, used for certain functions in the instrument cluster or the Head-up Display. Entertainment source. Current audio source. List of most recent telep
SEE MORE:
TEST REQUIREMENTS FOR HEADLIGHT VERTICAL AIM ADJUSTMENT Car parked on level ground. Replace faulty glass and mirrors and blackened light bulbs. Check tire pressure and correct if necessary. Apply load equivalent to one person on driver's seat (approx. 75 kg). Vehicle with full fuel tank or app
Principle The air flow directions can be adjusted individually for direct or indirect ventilation. Setting the ventilation General information Open the air vents and position them to ensure effective climate control. Direct ventilation The air flow is directed towards the passengers. The air flow h