BMW X5: Reversing Camera
INSTRUCTIONS FOR ADAPTING ADJUSTMENT UNIT FOR REVERSING CAMERA (CORGHI KDS QUICK - ACTION CLAMP)
NOTE: The operation is described for the left-hand side; proceed in the same way for the right-hand side.
Remove support plate (1) from spindle (2).
Replace spindle (2) by spindle (3).
Press support plate (1) on to spindle (3).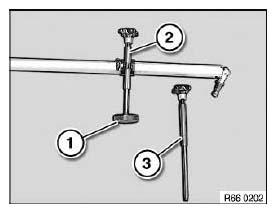 Fig. 10: Identifying Support Plate And Spindle
Release retaining clip (1).
Remove ball pin (2) from rod (3).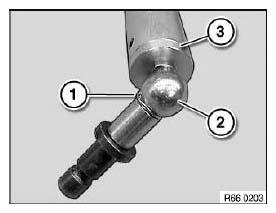 Fig. 11: Identifying Retaining Clip And Ball Pin
Fit new ball pin (1) on rod (2) and secure with retaining clip (3).
Fit ball pin (1) on CORGHI KDS quick-release clamp and secure.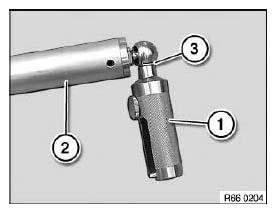 Fig. 12: Identifying Ball Pin And Rod
Remove all spacers (1) on cross bar (2).
NOTE: Follow the same procedure for calibrating the reversing camera.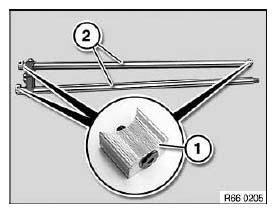 Fig. 13: Identifying Spacers And Cross Bar
CALIBRATING REVERSING CAMERA
WARNING: Danger of injury! Laser radiation at adjustment unit.
Do not look into the beam! Laser class 2
As per EN 60825-1: 1994
P< or = 1 mW
Lambda = 632.8 nm
NOTE: Calibration of reversing camera must be carried out after the following work:
Removal and installation/replacement of reversing camera
Chassis tuning
Body repair work at rear end of vehicle
Adjustment of rear lid
IMPORTANT: Follow instructions and specifications in test module.
To obtain an optimum result, always adhere to the following conditions:
Vehicle standing level on headlight aiming station
Correct tire inflation pressure (see instruction plate on car).
Vehicle is free of load
Rear seat bench is unoccupied
Do not swap seats during calibration
Steering wheel in straight-ahead position
Do not move steering wheel
NOTE: Once the laser has been aligned to the camera lens, it is necessary to calibrate the reversing camera via the DIS Tester.
Calibration can only be carried out with the BMW diagnosis system.
Observe information on use of CORGHI KDS quick-action clamp!
Secure KDS quick-action clamp on rear wheels on both sides.
Insert ball pivot (1) in guide (2) up to stop and secure with screw (3).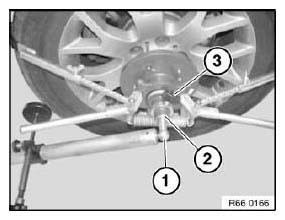 Fig. 14: Identifying Ball Pivot And Guide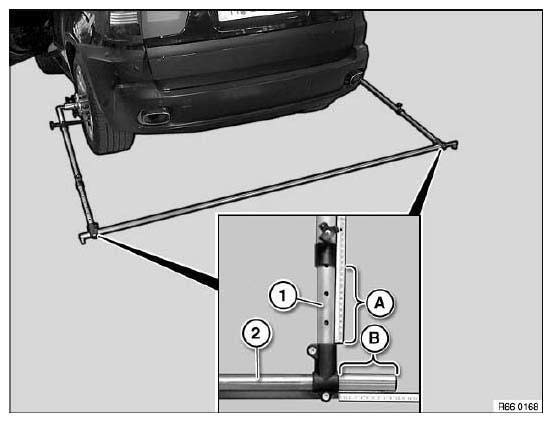 Fig. 15: Identifying Dimension Of Longitudinal Rod And Transverse Rod
Dimension (A) of longitudinal rod (1) and dimension (B) of transverse rod (2) must be adapted to the type of vehicle.
Position target (1) on transverse rod with scale and align to zero point on scale (2).
Secure target (1) using knurled screws (3).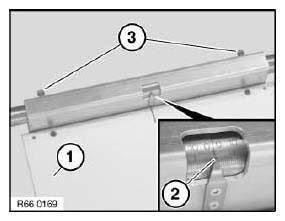 Fig. 16: Identifying Knurled Screws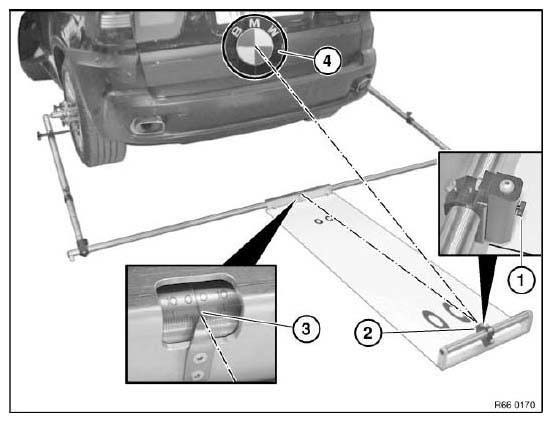 Fig. 17: Identifying Switch On Laser Pointer With Knurled Screw
Switch on laser pointer (2) with knurled screw (1).
Align laser pointer first to zero point on scale (3), then upwards to centre of BMW badge (4).
In the event of a laser deviation from the BMW badge centre, this must be compensated for by shifting the complete linkage in the corresponding direction.
After realigning the target, check the position of the laser again and correct if necessary.
Align contact surface (1) on both sides to tire side wall.
Tighten linkage simultaneously on both sides with adjusting screw (2).
NOTE: After securing linkage, check position of laser pointer again on vehicle's BMW badge.
If necessary, correct by means of adjusting screws.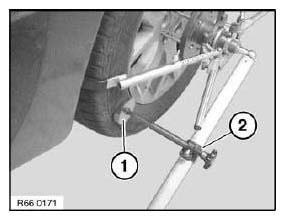 Fig. 18: Identifying Contact Surface Of Tyre Side Wall And Adjusting Screw
Slacken knurled screws (2).
Adjust scale value (1) as specified.
Tighten down knurled screws (2).
Version with ride-height control:
Pull fuse F107 in luggage compartment distribution box.
Start calibration of reversing camera by way of BMW diagnosis system.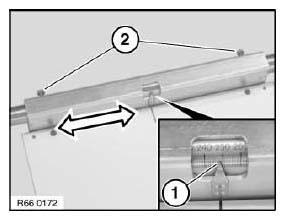 Fig. 19: Identifying Knurled Screws
REPLACING REVERSING CAMERA
IMPORTANT: Read and comply with notes on protection against electrostatic damage (ESD protection).
Necessary preliminary tasks:
Disconnect battery negative lead
Remove rear lid upper section panel
Release screws (1).
Disconnect plug connections (2) and carefully feed out reversing camera (3).
Tightening torque 66 54 1AZ, go to 66 53 REVERSING CAMERA
Replacement:
Remove protective film from reversing camera lens.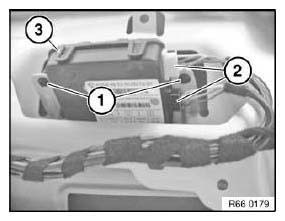 Fig. 20: Identifying Plug Connections And Reversing Camera Lens
Installation:
Moisten seal (1) slightly to facilitate installation.
Seal (1) must be correctly seated in rear lid (2).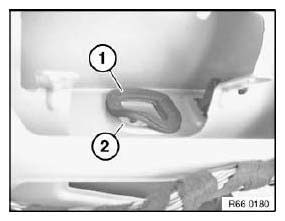 Fig. 21: Identifying Seal And Rear Lid
After installation:
Calibrate reversing camera.
READ NEXT:
CALIBRATING REVERSING CAMERA WARNING: Danger of injury! Laser radiation at adjustment unit. Do not look into the beam! Laser class 2 As per EN 60825-1: 1994 P< or = 1 mW Lambda = 632.8 nm NOTE: Ca
SEE MORE:
REMOVING AND INSTALLING/REPLACING ALL CAM FOLLOWERS (N52K) Special tools required: 11 4 480 Necessary preliminary tasks: Remove cylinder head cover Remove intermediate lever Remove exhaust camshaft IMPORTANT: Rocker arms (1) are divided into bearing categories. The tolerance classes are mar
WARNING: Danger to life! Mount securing fixture for vehicle on lifting platform to prevent the vehicle from slipping off or tilting down. Secure engine in installation position to prevent it from falling down. WARNING: Danger of poisoning if oil is ingested/absorbed through the skin! Risk of injur