BMW X5: Replacing Fluid In ABS/ASC+T Brake System
Necessary preliminary tasks:
Remove left microfilter housing cover.
Read and comply with General Information.
IMPORTANT: When carrying out repairs to the brake system, follow the procedure set out in Bleeding brake system with DSC.
Connect brake fluid changer to expansion tank and switch on.
NOTE: Check relevant Operating Instructions for each device.
Charging pressure should not exceed 2 bar.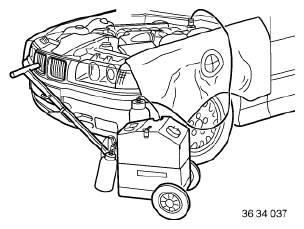 Fig. 14: Connecting Brake Fluid Changer To Expansion Tank
Flushing brake system completely
Connect bleeder hose with collecting tray to bleeder valve on rear right brake caliper.
Open bleeder valve and purge until clear, bubble-free brake fluid emerges.
Close bleed valve.
Follow same procedure on rear left, front right and front left wheel brake.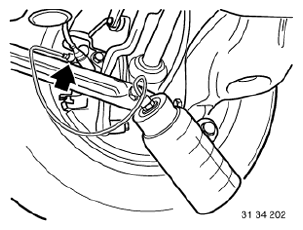 Fig. 15: Connecting Bleeder Hose With Collecting Tray
NOTE: The clutch slave cylinder must also be scavenged in vehicles with manual transmissions.
Switch off brake fluid changer and remove from expansion tank.
Check brake fluid level.
Close expansion tank.
NOTE: Pay attention to rubber seal (1) in sealing cap.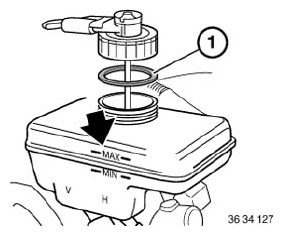 Fig. 16: Identifying Rubber Seal
CHECKING SERVICE BRAKE: HIGH- AND LOW-PRESSURE TESTS
IMPORTANT: The high/low-pressure test (leakage test) must be carried out with the engine switched off.
Observe safety instructions on raising the vehicle.
High-pressure test (leakage test):
Perform test on both brake circuits.
1st brake circuit, front axle
2nd brake circuit, rear axle
Remove bleeder screw, connect pressure tester and bleed.
Load brake pedal with a force and block brake pedal with pedal support, refer to Technical Data.
After 2 minutes, pressure is permitted to drop by max. 8 %.
Low-pressure test:
Perform test on both brake circuits.
Reset pedal support until test pressure in braking system is 2... 5 bar.
Vehicle and measuring apparatus must remain steady as vibrations will distort the result.
Pressure must remain constant for a test period of 5 minutes.
Check all rubber parts in case of excessive pressure drop.
Bleed brake calipers and wheel brake cylinders after finishing test.
READ NEXT:
Fig. 17: Identifying Front Brake Components Brake disc Brake caliper Brake-pad wear sensor Brake pads Pulse generator Brake hose Brake guard plate Checking thickness of brake pad Special to
Special tools required: 34 1 280. Necessary preliminary tasks: Remove front wheels. Remove and clean brake pads. After completing work, read and comply with notes on braking in new brake disc
SEE MORE:
CAUTION: To avoid damage when handling optical fibers, comply with the following points: The minimum permitted bending radius is 25 mm Do not subject optical fibers to compressive and tensile load Protect optical fibers against the effects of heat > or =85ºC (e.g. during welding work, dr
Orientation The fastest way to find information on a particular topic is by using the index. An initial overview of the vehicle is provided in the first chapter. Validity of the Owner's Manual Production of the vehicle At the time of production at the plant, the printed Owner's Manual is the most c