BMW X5: Removing And Installing / Replacing A Steering Knuckle / Wheel Carrier
Remove rear wheel.
IMPORTANT: Expand turning lock sufficiently to avoid damaging thread when releasing collar nut.
Release collar nut (1), activate parking brake for this purpose.
Installation:
Replace collar nut, oil collar nut/wheel bearing contact surface only and tighten down.
No oil permitted on thread of shaft journal or collar nut.
Tightening torque.
Secure collar nut by positive peening on flat areas of output shaft.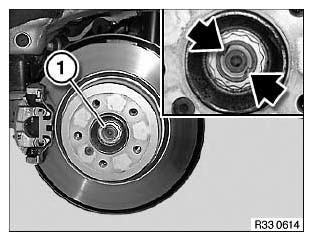 Fig. 96: Identifying Collar Nut
Remove expander lock for handbrake shoes.
Remove handbrake Bowden cable from wheel carrier.
Remove wheel bearing (do not pull out drive flange).
Remove pulse generator from wheel carrier.
Tension rear coil spring and leave on vehicle at rear.
Version with ride-height control:
Deactivate and drain air spring/suspension system.
IMPORTANT: Do not use any tools to remove the lower section of the air spring (1).
Tilt lower section of air spring (1) by hand towards front/side.
Installation:
Press lower section of air spring (1) by hand into wheel carrier until it can be seen and heard to snap into place.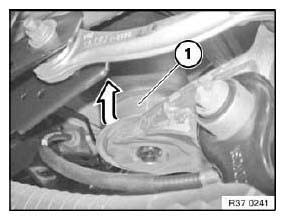 Fig. 97: Removing Lower Section Of Air Spring
IMPORTANT: Secure wheel carrier against falling out.
Remove integral link.
Remove guide arm from wheel carrier. Remove upper control arm from wheel carrier. Remove wheel carrier.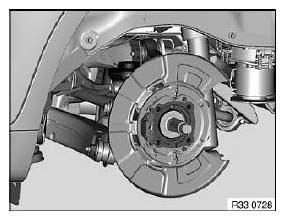 Fig. 98: Identifying Wheel Carrier
Replacement:
Modify brake carrier/brake guard plate.
IMPORTANT: Make sure spring pad is correctly installed in order to prevent the coil spring from jumping out.
Modify lower spring pad (1). To do so, lever out upper section (2) with a suitable tool.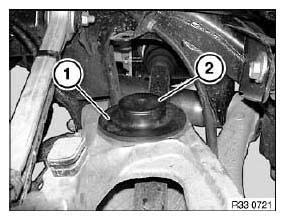 Fig. 99: Identifying Lower Spring Pad And Upper Section
After installation:
Activate and fill air suspension system.
Adjusting parking brake.
Replacement only: Perform CHASSIS ALIGNMENT CHECK.
READ NEXT:
IMPORTANT: Observe safety when raising the vehicle. Driving without compression struts is not permitted! Necessary preliminary tasks: Remove underbody panelling (rear section). Release screws (1).
REMOVING AND INSTALLING/REPLACING FRONT COMPRESSION STRUT IMPORTANT: Observe safety when raising the vehicle. Driving without compression struts is not permitted! Necessary preliminary tasks: Remov
REPLACING DRIVE FLANGE ON LEFT/RIGHT REAR AXLE SHAFT Special tools required: 33 2 116 33 2 160 33 2 201 33 4 200 Remove rear wheel. IMPORTANT: Expand turning lock sufficiently to avoid damaging
SEE MORE:
Engine Diagnosis When attempting to diagnose driveability complaints, always consider the basics. Regardless of the level of technology employed on an engine, it still needs a few basic things to occur in order to run properly. Whether the engine is very basic or uses so-called "New Generation" te
Engine - Technical Data (N52K 6-Cyl.) ENGINE, GENERAL ENGINE IN GENERAL N52K B25 TECHNICAL DATA - ENGINE GENERAL N52K B25 ENGINE IN GENERAL N52K B30 TECHNICAL DATA - ENGINE GENERAL N52K B30 ENGINE BLOCK ENGINE BLOCK, CYLINDER CRANKCASE N52K B25 TECHNICAL DATA - ENGINE BLOCK, CYLINDER CRANKCASE N52