BMW X5: Wheel Bearings
REPLACING DRIVE FLANGE ON LEFT/RIGHT REAR AXLE SHAFT
Special tools required:
33 2 116
33 2 160
33 2 201
33 4 200
Remove rear wheel.
IMPORTANT: Expand turning lock sufficiently to avoid damaging thread when releasing collar nut.
Release collar nut (1), activate parking brake for this purpose.
Installation:
Replace collar nut, oil collar nut/wheel bearing contact surface only and tighten down.
No oil permitted on thread of shaft journal or collar nut.
Tightening torque.
Secure collar nut by positive peening on flat areas of output shaft.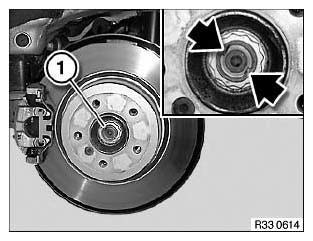 Fig. 107: Identifying Collar Nut
Remove brake disk.
Force drive flange with special tools 33 2 116 / 33 2 201, 33 2 160 , 33 4 200 and 5 wheel bolts out of wheel bearing.
NOTE: Rounded inside edge of special tool 33 2 160 must point to drive flange.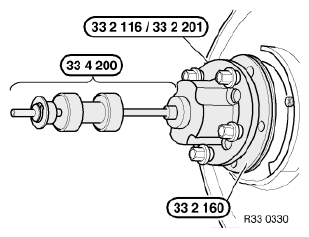 Fig. 108: Identifying Special Tools (33 2 116), (33 2 201) And (33 4 200)
IMPORTANT: The wheel bearing is destroyed when the drive flange is removed and cannot be reused!
Replace wheel bearing.
Installation:
Oil drive flange lightly and attach to splines of output shaft.
Draw drive flange into wheel bearing.
After installation:
REPLACING LEFT OR RIGHT WHEEL BEARING ON REAR AXLE SHAFT
IMPORTANT: Do not damage multipole impulse ring.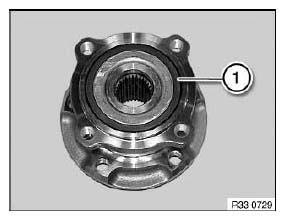 Fig. 109: Identifying Multipole Impulse Ring
Necessary preliminary tasks:
Remove drive flange for rear axle shaft.
Release screws.
Remove wheel bearing.
Installation:
Stick in screws again / replace.
Tightening torque.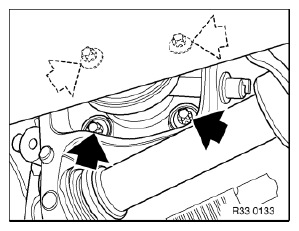 Fig. 110: Locating Screws
Installation:
Keep contact surface (2) of wheel bearing/wheel carrier clean and free from oil and grease.
Except when replacing: Recondition tapped holes (1).
Install new wheel bearing.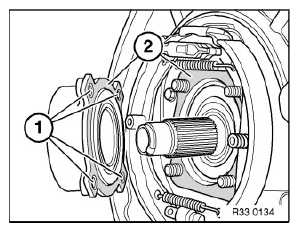 Fig. 111: Identifying Tapped Holes And Contact Surface Of Wheel Bearing/Wheel Carrier
After installation:
READ NEXT:
Facts: When a shock absorber is faulty on one side (leaking, noises, limit values exceeded on the shock tester), often both shock absorbers on the axle in question are replaced. E32, E34, E38, E39:
NOTE: Read and comply with Information on replacing shock absorbers. Version with Vertical Dynamics Management: IMPORTANT: Handle the spring strut with care so as to avoid damaging the control unit
SEE MORE:
Fig. 28: Identifying Rear Axle Components A wheel/chassis alignment check must be carried out after the following work: Release of following screw/bolt connections: Swinging arm, front/rear, to rear axle carrier Swinging arm to integral link / wheel carrier Integral link to wheel carrier
WARNING: Danger of poisoning if oil is ingested/absorbed through the skin! Risk of injury if oil comes into contact with eyes and skin! IMPORTANT: Adhere to the utmost cleanliness. Do not allow any dirt to enter the hydraulic system. Seal off hydraulic lines with plugs. Necessary preliminary task