BMW X5: Other Flaps
REMOVING AND INSTALLING FLAP FOR FUEL FILLER NECK
NOTE: The illustration is a schematic representation and is to be applied to the relevant vehicle type.
Open fuel filler flap.
Lever out lock (2) and detach fuel filler flap (1) in direction of arrow.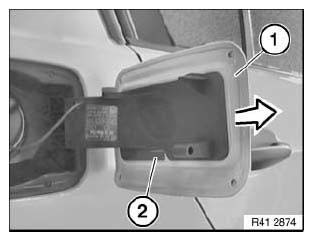 Fig. 238: Identifying Fuel Filler Flap
REPLACING COVER BOWL
Necessary preliminary tasks:
Remove right rear wheel.
Remove rear right wheel arch trim.
Remove flap for fuel filler neck.
Remove servodrive for tank filler flap.
NOTE: Carry over schematic representation to the relevant vehicle type.
IMPORTANT: Deformation of the sheet metal flanges in the side panel and the wheel arch results in permanent vehicle leakage. Carry out removal/installation with great care.
Following new body parts are required:
Filler bowl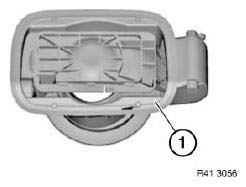 Fig. 239: Identifying Filler Bowl
Turn sleeve (1) through approx. 45º and pull out in direction of arrow.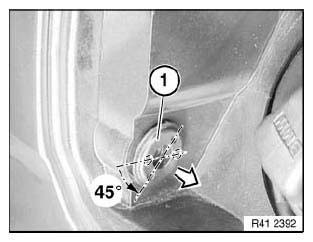 Fig. 240: Identifying Sleeve
Press retaining strap (1) inwards and lift out (see arrow).
Pierce cover bowl at markings (3) with a small screwdriver.
Remove cover (2).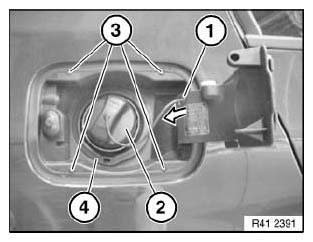 Fig. 241: Identifying Retaining Strap And Cover
NOTE: Illustrations shows fuel filler pipe removed.
Release rubber seal from sheet metal flange.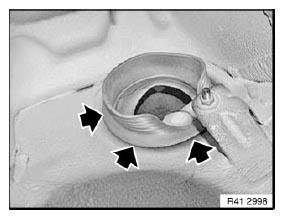 Fig. 242: Identifying Rubber Seal
Insert screwdriver to a depth of max. 5 mm and unlock cover bowl catch.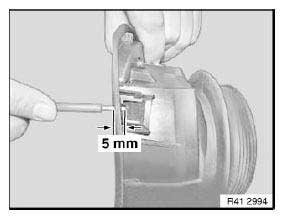 Fig. 243: Unlocking Cover Bowl Catch
Keep cover bowl tensioned with pliers (2).
Unlock catches individually with screwdriver (1).
Unlock catches in following order:
Top left
Bottom left
Top right
Bottom right
Move screwdriver in opposite direction at both lower catches.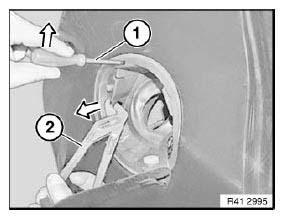 Fig. 244: Unlocking Catches
Open hinge arm (1).
IMPORTANT: Do not damage sheet metal flange of side panel.
Carefully twist out cover bowl (2) at first at rear in direction of arrow from side panel and remove.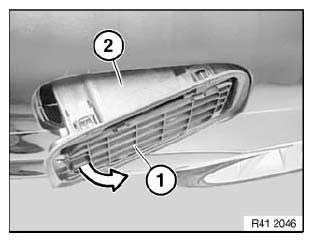 Fig. 245: Identifying Hinge Arm And Cover Bowl
Installation:
Open hinge arm.
Turn sealing sleeve in area of hinge inwards and hold.
Insert cover bowl and engage sealing sleeve over fuel filler pipe.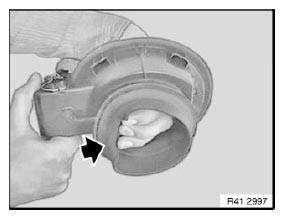 Fig. 246: Inserting Cover Bowl And Engage Sealing Sleeve Over Fuel Filler Pipe
Installation:
Using fitting aid (1), pull sealing lip (2) over sheet metal flange of wheel arch (3).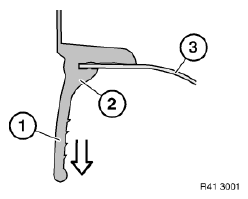 Fig. 247: Pulling Sealing Lip
Installation:
Illustrations shows fuel filler pipe removed.
Check that sealing lip is correctly seated.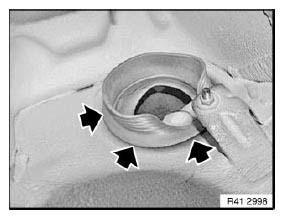 Fig. 248: Identifying Rubber Seal
Installation:
Cover bowl must snap into place 4 times.
After installing, carefully check cover bowl at clips for secure seating.
There must be no discernible gap between sealing lip and side panel in area (1).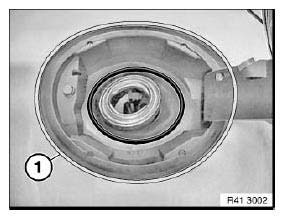 Fig. 249: Identifying Sealing Lip
READ NEXT:
1.0 GENERAL INFORMATION Brake fluid, (glycol-based) as used in BMW brake systems, must conform with the following requirements: High boiling point Good low temperature resistance Low compressibil
Pedal Mounting Block REMOVING AND INSTALLING (REPLACING) COMPLETE BEARING BLOCK FOR FOOT PEDAL Necessary preliminary tasks: Remove pedal trim. IMPORTANT: After completion of work, carry out functio
SEE MORE:
General information The engine oil consumption is dependent on your driving style and driving conditions. Therefore, regularly check the engine oil level after refueling by taking a detailed measurement. The engine oil consumption can increase in the following situations, for instance: Sporty dr
NOTE: Examples of unlocking and disconnecting different plug connections. Press lock and open clip in direction of arrow. Disconnect plug connection. Fig. 4: Pressing Lock Press lock and open clip in direction of arrow. Disconnect plug connection. Fig. 5: Opening Clip Open clip in direction of a