BMW X5: Mounting Engine On Assembly Stand (N52K)
Special tools required:
00 1 450 ASSEMBLY STAND
11 3 370
11 4 440
11 9 261
11 9 265
IMPORTANT: Aluminium screws/bolts must be replaced each time they are released.
The end faces of aluminium screws/bolts are painted blue for the purposes of reliable identification.
Jointing torque and angle of rotation must be observed without fail (risk of damage).
Necessary preliminary tasks:
Bolt engine or engine block with steel bolts (1) and aluminium bolts (2) to special tool 11 4 440.
To release central bolt, bolt on special tools 11 9 261 and 11 9 265 as well.
Mount engine with special tool 11 3 370 to special tool 00 1 450.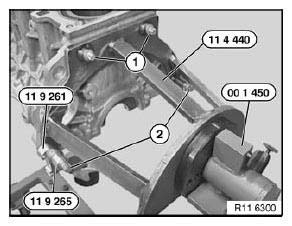 Fig. 17: Engine Block With Steel And Aluminium Bolts
BMW ENGINE OIL SERVICE INCL. SUPPLEMENTARY SERVICE (N52K)
Special tools required:
The FRU item 00 00 250 comprises the BMW engine oil service incl. supplementary service.
Only the engine oil service will be described in these repair instructions.
The supplementary service is made up of the following operations which must be taken from the relevant repair instructions:
Reset service interval indicator according to factory specification
Replace microfilter for interior ventilation
Check brake lining thickness, see 34 00 010 CHECKING THICKNESS OF BRAKE PAD
Adjust handbrake/parking brake, see 34 10 014 ADJUSTING HANDBRAKE
Parking brake function check
IMPORTANT: Adhere to exact filling quantities.
Overfilling the engine with engine oil will result in engine damage.
Checking and drip-off times must be observed.
IMPORTANT: When working on the engine oil, coolant or fuel circuit, you must always protect the alternator against contamination.
Risk of damage!
The alternator must therefore be covered with suitable apparatus.
Recycling:
Catch and dispose of drained engine oil in a suitable container.
Observe country-specific waste-disposal regulations.
NOTE: Adhere to the following work steps in sequence:
Open oil filter cap.
Release screw plug in oil sump.
NOTE: Picture shows the E93 by way of example. Other model series may differ in certain details.
Release oil filter cap with special tool 11 9 240.
Engine oil flows out of the oil filter housing and back into the oil sump.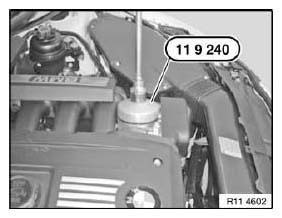 Fig. 18: Special Tool (11 9 240)
Remove and insert oil filter element (1) in direction of arrow.
Installation:
Replace oil filter element (1) and sealing rings (2).
Installation:
Moisten sealing rings (2) with engine oil.
Tightening torque: 11 42 1AZ.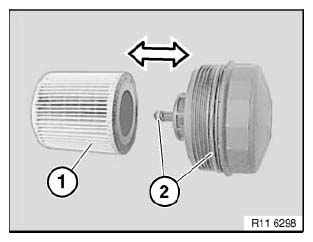 Fig. 19: Sealing Rings
NOTE: For purposes of clarity, the picture shows the assembly underside protection and reinforcement plate removed.
Unclip service opening on reinforcement plate.
Open screw plug (1) in oil sump.
Drain engine oil.
Installation:
Replace sealing ring.
Tightening torque: 11 13 1AZ.
Pour in engine oil.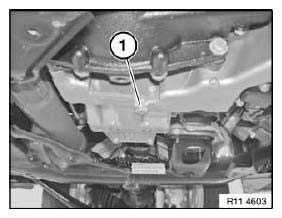 Fig. 20: Screw Plug
NOTE: Start engine and run at idle until oil pressure warning lamp goes out.
Turn off engine.
Check oil filter cap and screw plug (1) on oil sump for leaks.
Assemble engine.
Checking engine oil level:
Park vehicle on a horizontal surface
Allow engine at normal operating temperature to run for three minutes with increased revs (approx. 1100 rpm)
Read off engine oil level in instrument cluster or on Control Display
Top up engine oil if necessary
REMOVING AND INSTALLING/REPLACING IGNITION COIL COVER (N52K)
Release screws.
Tightening torque: 11 12 6AZ.
Remove ignition coil cover (1).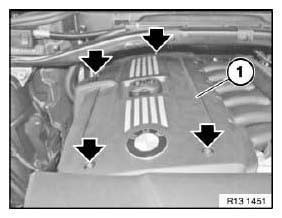 Fig. 21: Ignition Coil Cover
READ NEXT:
Special tools required: 00 0 200 CROSS MEMBER 00 0 202 00 0 204 00 0 208 11 0 000 WARNING: Danger of injury! Observe following instructions relating to special tool: Prior to each use, check
Special tools required: 11 0 320 11 4 420 11 4 430 11 4 471 11 4 472 11 8 580 IMPORTANT: Aluminium-magnesium materials. No steel screws/bolts may be used due to the threat of electrochemical
SEE MORE:
Special tools required: 00 2 190 NOTE: If a tire sealant has been used, replace the wheel electronics. When a tire has been removed, do not clean the rim with installed wheel electronics with high-pressure cleaning equipment. Do not treat wheel electronics with solvents, cleaning agents etc. If
Read contents of Body, General. The steel-aluminum mixed construction is used on the vehicle. Observe specific procedure. Remove or cover those vehicle components in the repair area which are susceptible to heat or dust. Use only approved spot-welding apparatus for repairs. Place vehicle on str