BMW X5: Instrument Cluster
REMOVING AND INSTALLING (REPLACING) INSTRUMENT CLUSTER
IMPORTANT: Read and comply with notes on protection against electrostatic damage (ESD protection).
NOTE:
Comply with notes and instructions on handling fibre-optic cables.
Necessary preliminary tasks:
Extend steering wheel completely and lower
Disconnect battery negative lead.
Release screws (1).
Pull back instrument cluster (2) slightly.
Disconnect associated plug connection.
Remove instrument cluster (2).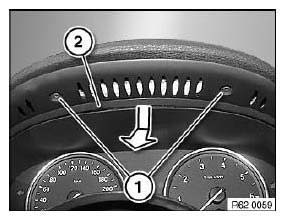 Fig. 1: Pulling Back Instrument Cluster
Replacement:
Carry out programming/coding.
READ NEXT:
REMOVING AND INSTALLING/REPLACING TRIM FOR HEAD-UP DISPLAY Special tools required: 00 9 317. Lever out trim for head-up display (1) with special tool 00 9 317 towards top. Fig. 2: Removing Lever I
TEST REQUIREMENTS FOR HEADLIGHT VERTICAL AIM ADJUSTMENT Car parked on level ground. Replace faulty glass and mirrors and blackened light bulbs. Check tire pressure and correct if necessary. Apply
SEE MORE:
Principle Contact the BMW Group Roadside Assistance if assistance is needed in the event of a breakdown. General information In the event of a breakdown, data on the vehicle's condition is transmitted to the BMW Roadside Assistance. There are various ways of contacting BMW Roadside Assistance. Via
Principle Speed Limit Assistant supports driving at the speed limit. A suggested speed can be applied. General information When the systems in the vehicle, e.g., Speed Limit Info, detect a change of the speed limit, this new speed value can be applied for the following systems: Manual Speed Limite