BMW X5: Exhaust Manifold
REMOVING AND INSTALLING/REPLACING RIGHT EXHAUST MANIFOLD (N62TU)
Necessary preliminary tasks:
Remove exhaust system.
Remove right control sensor.
Remove right monitor sensor.
Remove right engine support arm.
For purposes of clarity, illustration shows and description refers to the removed engine.
Unscrew nuts.
Remove exhaust manifold downward.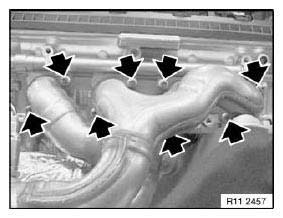 Fig. 21: Locating Nuts
Installation:
Replace seals. Seal beads face exhaust manifold. Coat threads with copper paste.
Replace nuts.
Tightening torque, 18 40 1A.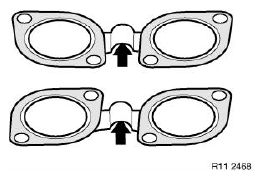 Fig. 22: Locating Seal Beads
READ NEXT:
GENERAL FUNCTION DESCRIPTION FOR FUEL SUPPLY SYSTEMS Fuel supply systems, spark-ignition engines Fuel system The electric fuel pump in the fuel tank generates the pressure in the fuel system which is
REPLACING LEFT OR RIGHT CLAMPING BAND FOR FUEL TANK Necessary preliminary tasks: Remove underbody panelling. IMPORTANT: Secure fuel tank against slipping and falling out. Heavily support the fuel t
SEE MORE:
IMPORTANT: Ensure adequate ventilation in the place of work! Ensure absolute cleanliness when working on the open fuel tank. Contaminants in the fuel tank can impair driving operation or may even result in vehicle breakdown! Catch escaping fuel in a suitable container. Necessary preliminary tasks:
(cylinder bank 1 to 4) Necessary preliminary tasks: Remove servomotor for right eccentric shaft. Remove ignition coils on cylinder bank 1 to 4. Remove right cylinder head cover. Remove spark plugs on cylinder bank 1 to 4. Remove right inlet and exhaust adjustment units. Remove slide rail (1)