BMW X5: Deactivating Front Passenger Airbags With Key-Operated Switch
WARNING: The responsibility for deactivation/activation rests with the customer.
Depending on the occupation of the front passenger seat, the front passenger and side airbags must be deactivated in accordance with the Owner's Handbook.
The passenger airbag can only be deactivated in accordance with the following instructions if the vehicle is equipped with a suitable key-operated switch! The key-operated switch can be retrofitted if it is missing and has been ordered as an optional extra.
Key-operated switch:
Optional extra SA 5DA for MINI
Optional extra SA 470 for BMW
R50/R53 from 04/2004 only:
Deactivation via key-operated switch, see following work steps
The following airbags are deactivated simultaneously with the key-operated switch (1):
Passenger airbag
Side airbag (passenger side)
If necessary, knee airbag in US models (passenger side)
The airbags can only be deactivated/reactivated while the vehicle is stationary and with the door open.
IMPORTANT: The head airbag remains active.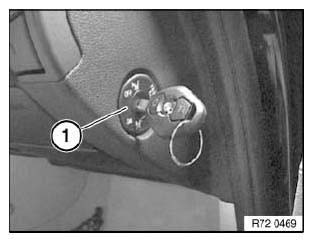 Fig. 14: Identifying Key-Operated Switch
Deactivation
1. Turn key-operated switch with ignition key to "OFF" position.
Deactivatable airbags on passenger side out of operation.
Head airbag on passenger side remains active.
All airbags on driver side remain active.
Activation
2. Turn key-operated switch with ignition key to "ON" position.
All the airbags in the vehicle are activated and are triggered in appropriate situations.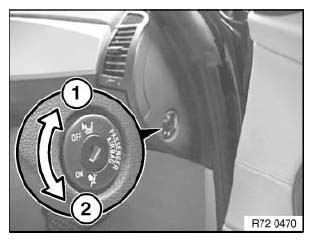 Fig. 15: Turning Key-Operated Switch
Warning lamp
When the ignition key is turned in the ignition lock, the function of the airbag system is checked and the warning lamp in the center console lights up for several seconds.
1. The warning lamp is permanently lit when the passenger airbags are deactivated
2. The warning lamp goes out after a few seconds when the passenger airbags are activated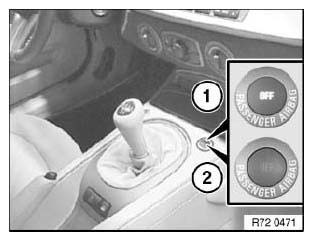 Fig. 16: Identifying Ignition Lock Switch
READ NEXT:
Fig. 17: Identifying Airbag Modules, Airbag Control Unit, Belt Tensioners Components Location Safety battery terminal (*) Side airbag, front seat, left/right (*) Belt tensioner, front left/right
WARNING: Read and comply with safety regulations for handling airbag modules and pyrotechnical belt tensioners. IMPORTANT: An airbag plug connection must be replaced if it is damaged. Sourcing refer
WARNING: Read and comply with safety regulations for handling airbag modules and pyrotechnical belt tensioners. Incorrect handling can activate airbag and cause injury. Necessary preliminary tasks:
SEE MORE:
REMOVING AND INSTALLING/REPLACING LEFT OR RIGHT B-PILLAR AIR VENT Necessary preliminary tasks: Remove B-pillar trim. Unclip retaining clip (1) and feed out air vent (2) in upward direction. Installation: Replace damaged retaining clips (1). Fig. 61: Identifying Air Vent Upward Positions REMOVIN
Necessary preliminary tasks: Remove glass slide/tilt sunroof. Remove glass slide/tilt sunroof lid at front. Remove glass slide/tilt sunroof lid at rear. Remove front drip molding. Remove drive for slide/tilt sunroof actuation. Overview of glass lid mechanism: Fig. 4: Identifying Glass Lid