BMW X5: Danger Of Poisoning If Oil Is Ingested/Absorbed Through The Skin
Danger of poisoning!
Ingesting oil or absorbing through the skin may cause poisoning! Possible symptoms are:
Headaches
Dizziness
Stomach aches
Vomiting
Diarrhoea
Cramps/fits
Unconsciousness
Protective measures/rules of conduct:
Pour oil only into appropriately marked containers
Do not pour oil into drinking vessels (drinks bottles, glasses, cups or mugs)
Observe country-specific safety regulations
First aid measures:
Do not induce vomiting.

If the person affected is still conscious, he/she must rinse out their mouth with water, drink plenty of water and consult a doctor immediately.

If the person affected is unconscious, do not administer anything by mouth, place the person in the recovery position and seek immediate medical attention.
RISK OF INJURY IF OIL COMES INTO CONTACT WITH EYES AND SKIN
Danger of injury!
Contact with eyes or skin may result in injury!
Possible symptoms are:
Impaired sight
Irritation of the eyes
Reddening of the skin
Rough and cracked skin
Protective measures/rules of conduct:
Wear protective goggles
Wear oil-resistant protective gloves
Observe country-specific safety regulations
First aid measures:
Eye contact: Rinse eyes immediately with plenty of water for at least 15 minutes; if available, use an eye-rinsing bottle. If irritation of the eyes persists, consult a doctor.
Skin contact: Wash off with soap and water immediately. If irritation persists, consult a doctor.
NOTE: Do not use solvents/thinners.
SAFETY INSTRUCTIONS FOR HANDLING OIL
WARNING: Danger of poisoning if oil is ingested/absorbed through the skin! Risk of injury if oil comes into contact with eyes and skin!
Recycling:
Observe country-specific waste-disposal regulations.
Measures if oil is unintentionally released:
Personal precautionary measures: Danger of slipping! Keep non-involved persons away from the work area. Wear personal protective clothing/equipment.
Environmental protection measures: Prevent oil from draining into drain channels, sewerage systems, pits, cellars, water and the ground.
Limiting spread: Use oil blocks to prevent the surface spread of oil.
Cleaning procedure: Bind and dispose of escaped oil with nonflammable absorbents.
NOTE: Do not flush oil away with water or aqueous cleaning agents.
RAISING VEHICLE WITH TROLLEY JACK
IMPORTANT: Observe the following trolley-jack-related instructions:
1. Use only BMW-distributed/approved trolley jacks which have rubber plate contact points.
2. Trolley jacks must be regularly serviced and always checked for functional reliability before they are used! 3. Check the rubber plate on the trolley jack prior to each use, replacing if necessary.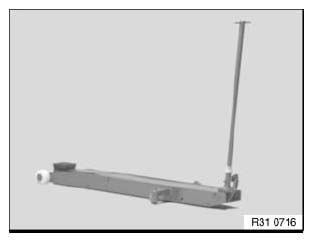 Fig. 1: Identifying Trolley Jack
WARNING: The vehicle may be raised with a trolley jack only at the following jacking points!
Car jacking point
Side car jacking points
Rear differential
Risk of damage: It is not permitted to raise the vehicle at the rear differential cover!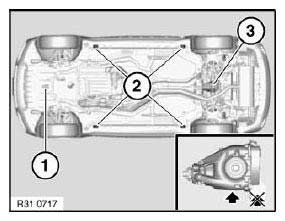 Fig. 2: Identifying Car Jacking Point, Side Car Jacking Point And Rear Differential
READ NEXT:
Fig. 3: Front Axle Overview Overview of front differential/output shafts Front axle support Stabiliser Tension strut / rubber mount Stabilizer link Layout of spring strut shock absorber Rein
Facts: When a shock absorber is faulty on one side (leaking, noises, limit values exceeded on the shock tester), often both shock absorbers on the axle in question are replaced. Consequence: This is
Special tools required: 00 2 261 00 2 262 WARNING: Danger to life! Mount securing fixture for vehicle on lifting platform to prevent the vehicle from slipping off or tilting down. WARNING: Observe
SEE MORE:
Do not start the engine with help of starting sprays. Preparation: Conform with the following when starting engine with starting cable. Ensure that jump lead wires are to appropriate cross-section size. Only use fuse-protected jump leads. Check whether the current supplying battery has 12 V volt
Switches in the vehicle The light switch element is located next to the steering wheel. Night vision. Lights off. Daytime driving lights. Parking lights. Automatic headlight control. Adaptive light functions. Low beams. Instrument lighting. Right roadside parking light. Left roadside parking ligh