BMW X5: Connecting mobile devices to the vehicle
Principle
Various connection types are available for using mobile devices in the vehicle. The connection type to select depends on the mobile device and the desired function.
General information
The following overview shows possible functions and the suitable connection types for them. The scope of functions depends on the mobile device.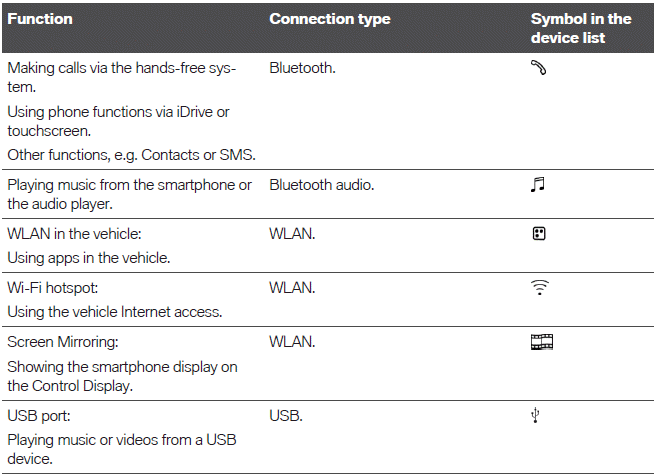 The following connection types require one-time pairing with the vehicle:
Paired devices are automatically recognized later on and connected to the vehicle.
Safety information
Warning
Operating the integrated information systems and communication devices while driving can distract from traffic. It is possible to lose control of the vehicle. There is a risk of accident. Only use the systems or devices when the traffic situation allows. As warranted, stop and use the systems and devices while the vehicle is stationary.
Compatible devices
General information
Information on mobile devices compatible with the vehicle can be found at www.bmwusa.com/bluetooth.
Malfunctions may occur with devices not listed or deviating software versions.
Displaying the vehicle identification number and software part number
When looking for compatible devices, you may have to state the vehicle identification number and the software part number. These numbers can be displayed in the vehicle.
1. "COM".
2. "Mobile devices".
3. Tilt the Controller to the right.
4. "Settings".
5. "Bluetooth info".
6. "System information".
READ NEXT:
General information After one-time pairing, the devices are automatically recognized and reconnected when standby state is switched on. After stored content on the SIM card or the mobile phone,
Functional requirements Compatible device with Bluetooth interface. Compatible devices. The vehicle key or BMW display key is in the vehicle. The device is ready for operation. Bluetooth is swi
General information For certain applications, such as apps, the data exchange between smartphone and vehicle occurs via WLAN. Functional requirements Standby state is switched on. Compatible device
SEE MORE:
Principle Extended Traffic Jam Assistant supports the driver with vehicle control in traffic jam situations. Supporting steering movements take place without the driver actively steering. General information The system uses the sensors of the steering and lane control assistant. Safety information
Intended use Heed the following when using the vehicle: Owner's Manual. Information on the vehicle. Do not remove stickers. Technical vehicle data. The traffic, speed, and safety laws where the vehicle is driven. Vehicle documents and statutory documents. Warranty Your vehicle is technicall