BMW X5: Widgets
Principle
Displays for specific functions can be displayed in the instrument cluster.
The following displays can be selected:
Current entertainment source, e.g., radio.
Torque and power.
G-Meter.
Trip data.
Efficiency display.
Selecting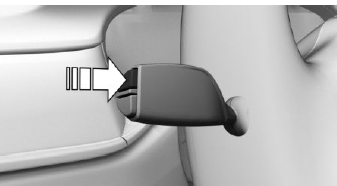 Continue to press the button on the turn signal lever until the desired widget is selected.
Display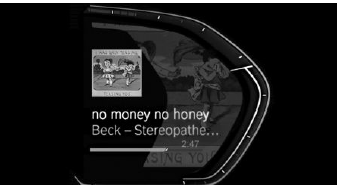 G-meter
The G-meter indicates the forces that are applied in longitudinal and transverse direction on the vehicle occupants while driving.
Efficiency display
Principle
Information about driving style and consumption can be displayed in the form of a consumption display as a widget in the instrument cluster, for example.
General information
Depending on the activated driving mode, different information will be displayed: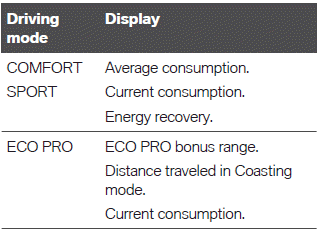 Average fuel consumption
The average consumption indicates the fuel consumption when driving a specific route.
Current consumption
The current consumption displays the current consumption of fuel. Check whether you are currently driving in an efficient and environmentally-friendly manner.
Energy recovery
During energy recovery, the kinetic energy of the vehicle is converted into electric energy in coasting overrun mode. The vehicle battery is partially charged and fuel consumption can be reduced.
ECO PRO bonus range
In the ECO PRO driving mode, the yielded extension of the range as a result of fuel-efficient driving is displayed as ECO PRO bonus range.
READ NEXT:
Principle The Check Control system monitors functions in the vehicle and notifies you of faults in the monitored systems. General information A Check Control message is displayed as a combination of i
Principle Indicator/warning lights in the instrument cluster display the status of some functions in the vehicle and indicate when a fault is present in the monitored systems. General information The
Yellow lights Steering Assistant The indicator light lights up and an acoustic signal may sound: a system interruption is imminent. The indicator warning light flashes: lane marking driven over. Ad
SEE MORE:
Special tools required: 32 4 000 WARNING: Danger of poisoning if oil is ingested/absorbed through the skin! Risk of injury if oil comes into contact with eyes and skin! IMPORTANT: Adhere to the utmost cleanliness. Do not allow any dirt to enter the hydraulic system. Prior to this check, first
WARNING: Danger to life! Necessary preliminary tasks: Remove rear differential. Remove rear axle carrier and if necessary with other workers assisting set down on a suitable surface. Remove brake lines. Remove stabilizer bar. Version with Dynamic Drive: Disconnect control lines for oscillatin