BMW X5: Use Of Materials In Outer Shell
The following illustration is a schematic representation of all the body variants.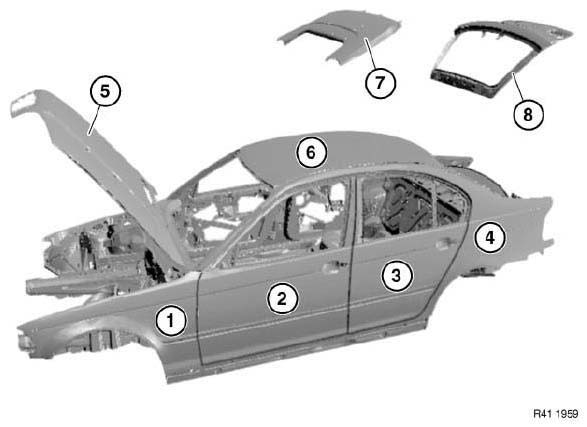 Fig. 20: Identifying Materials In Outer Shell
All components not listed in the table below are composed of established sheet steel qualities.
COMPONENTS MATERIALS SPECIFICATION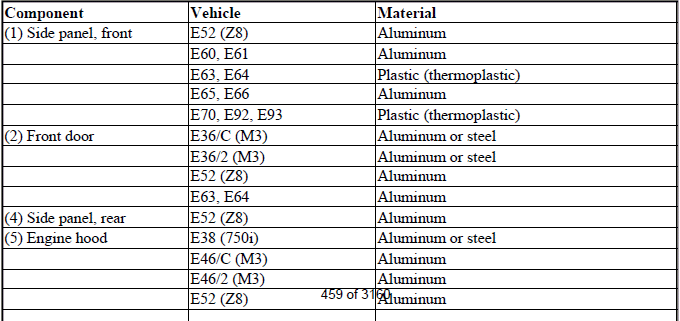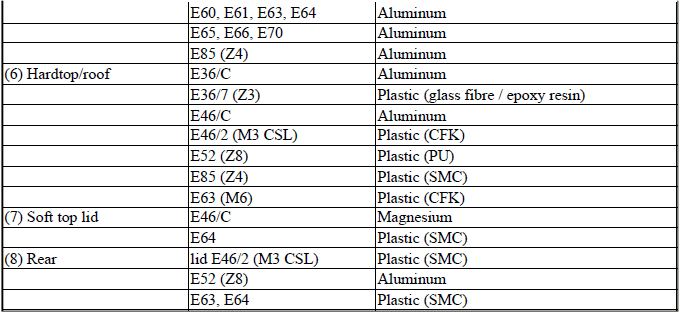 VEHICLE IDENTIFICATION NUMBER, GENERAL
The vehicle identification number must be stamped with a special tool. There are different special tool numbers and stamping procedures for the various vehicles.
In repair work, the vehicle identification number is always stamped into a replacement vehicle identification number surface. The replacement surface is usually situated under the original VIN surface.
The IGEF number (bodyshell number) is omitted when the wheel arch is replaced.
In the event of component or body replacement by the BMW garages/workshops, clearly delimit the vehicle identification number at front and rear by stamping a + in place of the BMW emblem.
If a VIN is stamped into the replacement surface in addition to the original VIN (e.g. if the original VIN has been tampered with), the following applies: The original VIN must be crossed out. To do so, stamp the letter I from the punch digits lengthways through the original VIN.
IMPORTANT: Do not use an angle grinder in conjunction with a cutting disk!
The protective film used as standard is omitted after the VIN has been manually stamped in. Paint area in accordance with BMW Painting Handbook. Ensure that layer thicknesses are small.
Observe country-specific regulations.
READ NEXT:
IMPORTANT: Comply with the following topics from "Body, General": Safety regulations. Handling electrical/electronic equipment, airbags and restraint systems. A. Welding steel parts: General inform
In the case of a partial replacement piece, a body component is cut at a point described in the repair instructions. A reinforcement plate is welded in to ensure sufficient strength. Follow notes f
SEE MORE:
Necessary preliminary tasks: Remove fresh-air grille in rear cabin. Remove trim from rear cabin monitor base at front. Release screws (1) and remove rear cabin monitor with holder (2). Disconnect associated plug connections and feed out leads. Tightening torque. Fig. 39: Identifying Rear Ca
Principle The range indicates the distance that can still be covered with the current full tank of fuel. General information The estimated range available with the remaining fuel is permanently displayed in the instrument cluster. With a low remaining range, a Check Control message is briefly displ