BMW X5: Safety Instructions For Handling Oil
WARNING: Danger of poisoning if oil is ingested/absorbed through the skin! Risk of injury if oil comes into contact with eyes and skin!
Recycling:
Observe country-specific waste-disposal regulations.
Measures if oil is unintentionally released:
Personal precautionary measures: Danger of slipping! Keep non-involved persons away from the work area. Wear personal protective clothing/equipment.
Environmental protection measures: Prevent oil from draining into drain channels, sewerage systems, pits, cellars, water and the ground.
Limiting spread: Use oil blocks to prevent the surface spread of oil.
Cleaning procedure: Bind and dispose of escaped oil with nonflammable absorbents.
NOTE: Do not flush oil away with water or aqueous cleaning agents.
RAISING VEHICLE WITH TROLLEY JACK
IMPORTANT: Observe the following trolley-jack-related instructions:
Use only BMW-distributed/approved trolley jacks which have rubber plate contact points.
Trolley jacks must be regularly serviced and always checked for functional reliability before they are used!
Check the rubber plate on the trolley jack prior to each use, replacing if necessary.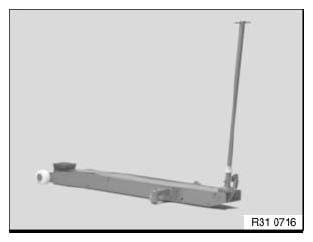 Fig. 1: Identifying Trolley Jack
WARNING: The vehicle may be raised with a trolley jack only at the following jacking points!
Car jacking point
Side car jacking points
Rear differential
Risk of damage: It is not permitted to raise the vehicle at the rear differential cover!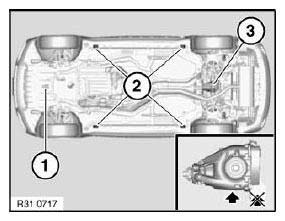 Fig. 2: Identifying Car Jacking Point, Side Car Jacking Points And Rear Differential
READ NEXT:
Fig. 3: Identifying Front Axle Components A wheel/chassis alignment check must be carried out after the following work: Release of following screw/bolt connections: Steering gear to front axle ca
IMPORTANT: Changes in axle geometry caused by accidents must under no circumstances be rectified by camber adjustment! NOTE: The upper control arm may only be replaced if the camber is outside the s
Facts: In the event of accidents or driving conditions similar to accidents, shocklike loads can cause different types of damage to steering gears. When a steering gear is externally undamaged, it is
SEE MORE:
REPLACING DRIVE FLANGE ON LEFT/RIGHT REAR AXLE SHAFT Special tools required: 33 2 116 33 2 160 33 2 201 33 4 200 Remove rear wheel. IMPORTANT: Expand turning lock sufficiently to avoid damaging thread when releasing collar nut. Release collar nut (1), activate parking brake for this purpose.
IMPORTANT: Aluminum-magnesium materials. No steel screws/bolts may be used due to the threat of electrochemical corrosion. A magnesium crankcase requires aluminum screws/bolts exclusively. Aluminum screws/bolts must be replaced each time they are released. The end faces of aluminum screws/bolts