BMW X5: Replacing Centre Mount Gaiter
Necessary preliminary tasks:
NOTE: The propeller shaft is balanced. The front and rear propeller shafts must be reassembled in the same position.
Detach gaiter (1) from groove (2).
Mark front propeller shaft (3) and rear propeller shaft (4) in one plane.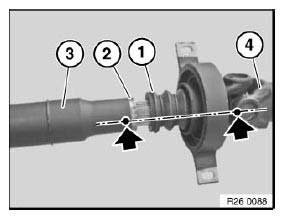 Fig. 13: Identifying Gaiter, Groove, Front Propeller Shaft And Rear Propeller Shaft
Pull propeller shaft apart.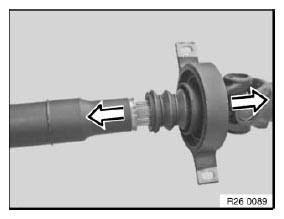 Fig. 14: Pulling Propeller Shaft
Installation:
If necessary, insert new clamping ring (1) into front propeller shaft (2).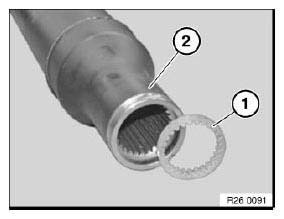 Fig. 15: Identifying Clamping Ring And Front Propeller Shaft
Release gaiter (1) with screwdriver from groove (2) and pull off over longitudinal splines.
Installation:
Apply an even coating of grease to longitudinal splines on shaft.
Grease, refer to BMW Service Operating Fluids.
Observe markings and force front propeller shaft onto longitudinal splines (markings must be flush).
Push gaiter (1) during installation into groove (2) and make sure it is firmly seated.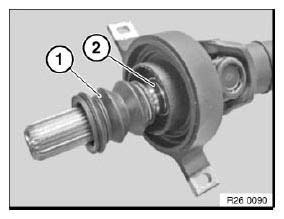 Fig. 16: Identifying Gaiter And Groove
REPLACING FLEXIBLE DISK FOR FRONT PROPELLER SHAFT
Necessary preliminary tasks:
Remove propeller shaft Removing and Installing Propeller Shaft (Inserted) Completely from transmission and centre mount
NOTE: To protect universal joints, tie back propeller shaft in area of centre mount.
Release screws and remove flexible disk (1) from propeller shaft.
IMPORTANT: Replace shiny ZNS bolts and self-locking nuts.
Tightening torque and angle of rotation: 26 11 1AZ.
Installation:
Arrows (3) on circumference of flexible disk must point to flange arms (2).
Grip mounting bolts of flexible disk at propeller shaft flange at nuts and tighten down at bolt heads.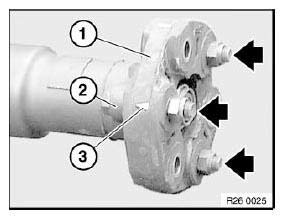 Fig. 17: Locating Self-Locking Nuts
Installation:
Check centring mount.
Replace damaged centring mount.
Grease centring mount.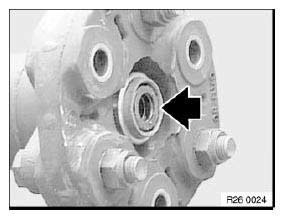 Fig. 18: Locating Centering Mount
READ NEXT:
Special tools required: 00 5 500 00 5 500 HANDLE FOR DRIFTS 11 1 310 11 1 310 DRIFT 11 2 030 11 2 030 DRIFT Necessary preliminary tasks: Remove propeller shaft. Fill centering bore (1) complet
REPLACING CENTRE MOUNT GAITER Necessary prelim2222inary tasks: Remove propeller shaft. NOTE: The propeller shaft is balanced. The front and rear propeller shafts must be reassembled in the same po
SEE MORE:
WARNING: Avoid contact with refrigerant and refrigerant oil. Follow safety instructions for handling refrigerant R 134a. Follow safety instructions for handling refrigerant oil. IMPORTANT: Risk of damage Restart engine only when A/C system has been correctly filled. Read and comply with notes on r
Principle The Pedestrian Warning warns in the city speed range of possible risk of collision with pedestrians and bicycle riders and may brake independently. In the event of an accident, the system may reduce impact speed. General information Sensors detect the traffic situation. The system issues