BMW X5: Removing And Installing Complete Left Or Right Spring Strut Shock Absorber
WARNING: Danger to life! Mount securing fixture for vehicle on lifting platform to prevent the vehicle from slipping off or tilting down.
Necessary preliminary tasks:
Remove side assembly compartment partition wall.
Remove spring strut holder.
IMPORTANT: Risk of damage Secure spring strut against falling out.
Unscrew nuts (1).
Installation:
Clean contact surface in spring strut dome.
Replace self-locking nuts.
Tightening torque.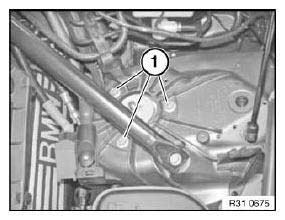 Fig. 68: Identifying Nuts
Version with Vertical Dynamics Management: Disconnect both plug connections (1).
Disconnect plug connection (2) on impulse sensor.
Disconnect plug connection (3) from brake lining sensor.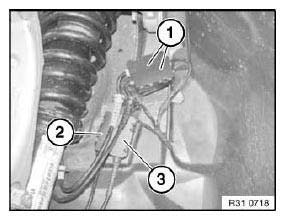 Fig. 69: Identifying Plug Connection
Remove spring strut downwards out of wheel arch.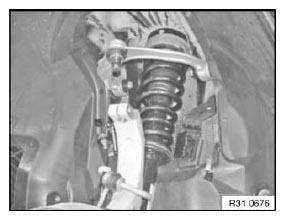 Fig. 70: Identifying Spring Strut
READ NEXT:
Special tools required: 31 3 341 31 3 351 31 3 353 WARNING: Observe the following instructions to avoid any risk of injury by the coil springs. Prior to each use, check the special tools for d
REPLACING FRONT LEFT OR RIGHT SPRING STRUT SUPPORT BEARING Special tools required: 31 3 341 31 3 351 31 3 353 WARNING: Observe the following instructions to avoid any risk of injury by the coil
REMOVING AND INSTALLING/REPLACING FRONT STABILIZER Necessary preliminary tasks: Remove front wheels Remove front underbody protection Remove front right wheel arch cover (front section) Remove r
SEE MORE:
REMOVING AND INSTALLING/REPLACING ALL PISTONS (N52K) Special tools required: 00 9 120 TORQUE ANGLE MEASURING DIAL 11 4 491 11 4 492 11 4 493 11 4 494 11 6 241 11 6 261 11 8 330 WARNING: Danger of injury! Carry out work on piston pin circlip wearing protective goggles only. IMPORTANT: If pi
Safety information Warning High gross weight can overheat the tires, damage them internally and cause a sudden tire pressure loss. Driving characteristics may be negatively impacted, reducing lane stability, lengthening the braking distances and changing the steering response. There is a risk of acc