BMW X5: Mount for trailer hitch
General information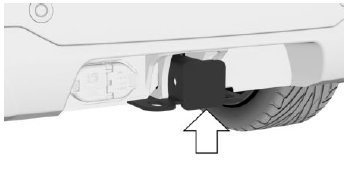 The mount for the trailer hitch is located on the rear of the vehicle.
Information on suitable trailer hitches is found on the underside of the mount, see arrow.
Remove the ball head when driving without a trailer or load carrier.
Safety information
Warning
During driving, high temperatures can occur underneath the vehicle body, for instance caused by the exhaust gas system. Contact with the hot components can cause burns.
There is a risk of injury. Do not touch hot components.
Do not perform work in the vicinity of hot components until after they have cooled down.
Removing the cover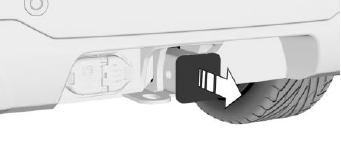 Pull the cover out of the back of the mount, and stow it in the vehicle.
Trailer connector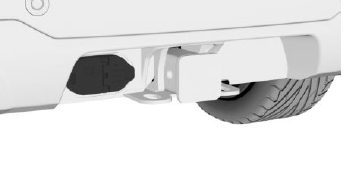 The socket is located to the left of the mount for the trailer hitch.
Fittings for trailer safety chain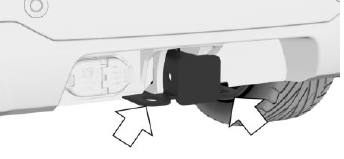 There are two fittings on the mount for the trailer hitch for securing the trailer safety chain.
Secure the trailer safety chain to the fittings for increased safety when driving with a trailer.
Ensure that the trailer safety chain can move freely and is not dragging on the ground.
Brake Controller
The vehicle manufacturer recommends that you have a Brake Controller installed by a dealer's service center or another qualified service center or repair shop.
Information on installing a Brake Controller can be obtained from a dealer's service center or another qualified service center or repair shop.
READ NEXT:
General information The vehicle contains advanced technologies for the reduction of consumption and emission values. The fuel consumption depends on various factors, such as driving style, road condi
Principle ECO PRO supports a driving style that saves on consumption. For this purpose, the engine control and comfort features, for instance the climate control output, are adjusted. Steptronic tran
SEE MORE:
REMOVING AND INSTALLING/REPLACING INTAKE FILTER HOUSING (N52K) Necessary preliminary tasks: Switch off ignition Lever out expansion rivets (1). Press lock (2) and raise intake duct (3). Detach intake duct (3) from air filter housing and remove. Fig. 8: Identifying Expansion Rivets, Lock And Int
When performing cylinder leakage tests, the following tips might be helpful: Remove all spark plugs to allow easier rotation of the engine. (If this test is done after a compression test, the plugs should already be out). Perform the leakage test on all cylinders, not just the problem cylinder.