BMW X5: General information - BMW display key
General information
Thescope of delivery of the BMW display key includes an additional mechanical key. If the display key is used, the mechanical key should be carried with you, for instance in the wallet. The mechanical key is used like the integrated key.
The display key supports all functions of the standard vehicle key.
In addition, the following functions are also available:
Additional information: Integrated key.
Safety information
Warning
People or animals in the vehicle can lock the doors from the inside and lock themselves in. In this case, the vehicle cannot be opened from the outside. There is a risk of injury. Take the vehicle key with you so that the vehicle can be opened from the outside.
Warning
For some country versions, unlocking from the inside is only possible with special knowledge.
Persons who spend a lengthy time in the vehicle while being exposed to extreme temperatures are at risk of injury or death. Do not lock the vehicle from the outside when there are people in it.
Warning
Unattended children or animals in the vehicle can cause the vehicle to move and endanger themselves and traffic, for instance due to the following actions:
Pressing the Start/Stop button.
Releasing the parking brake.
Opening and closing the doors or windows.
Engaging selector lever position N.
Using vehicle equipment.
There is a risk of accidents or injuries. Do not leave children or animals unattended in the vehicle.
Take the vehicle key with you when exiting and lock the vehicle.
Overview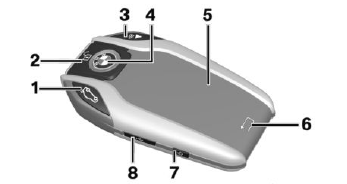 To open the tailgate
Unlocking
Press and hold or press three times in quick succession: panic mode
Press briefly: pathway lighting
Locking
Display
Back
Turn the display on/off
Micro-USB charging interface
Reception range
The number of available display key functions depends on the distance from the vehicle.
When you are in close proximity to the vehicle, all functions of the display key are available.
The status information can be called up in the extended reception range.

With parked-car heating: the parked-car heating can be operated.

Without parked-car heating: the pre-ventilation can be operated.

Outside of the reception range of the vehicle, you can display the last transmitted status information from the vehicle.

The icon is shown on the display if one of the buttons is pressed outside of the reception range.
READ NEXT:
Display General information The display is divided into the upper status line, the information area, and the lower status line. Upper status line The upper status line displays the following informati
Display key battery General information Follow the following information: If the charge state of the display key battery declines, the display is switched off automatically. The battery must be re
Principle The Key Card allows the vehicle to be unlocked and locked, as well as started. General information The Key Card is available with Comfort Access. Depending on the national-market version, t
SEE MORE:
1.0 Recommended tools Use only those tools specially intended for aluminum repairs. Do not use any tools that have already been used for steel repairs (contact corrosion). Do not use any sharp-edged tools (notch effect). 2.0 Straightening outer shell "Cold" straightening: Press dents out fr
Principle The BMW Intelligent Personal Assistant is a personal assistant that enables natural voice operation of various vehicle functions. The Personal Assistant simplifies the operation of the vehicle with the automation of processes and habits. General information BMW Intelligent Personal Assis