BMW X5: Electronic Power Steering
TEACHING IN CENTRE POSITION FOR POWER STEERING (ACTIVE FRONT STEERING) (FROM 03/2007)
NOTE: Carry out the following procedure after disconnecting the battery or disconnecting electrical plug connections on the steering column switch cluster.
Turn on ignition, start engine if necessary.
Turn steering wheel twice in both directions to full lock.
IMPORTANT: If the indicator lamp does not go out after the ignition is turned on again, an adjustment of the active front steering must be carried out.
ADJUSTMENT FOR ACTIVE FRONT STEERING
NOTE: Adjustment of the active front steering must be carried out:
after adjustment work on the front axle/steering
after all mechanical work on the steering system
after replacement/programming or coding of the following components:

Steering column switch cluster
DSC control unit
Active front steering control unit
ARS control unit
Connect vehicle to BMW diagnosis system.
Select and carry out initial operation/adjustment for active front steering under Service functions.
REMOVING AND INSTALLING/REPLACING CONTROL UNIT FOR ACTIVE FRONT STEERING
IMPORTANT: Read and comply with notes on protection against electrostatic damage (ESD protection).
Necessary preliminary tasks:
Disconnect battery negative lead.
Remove front left wheel arch cover (rear section).
Release nut (1) and disconnect ground cable.
Disconnect plug connections (2).
Unclip cable holder (3).
Installation:
Replace damaged cable holder.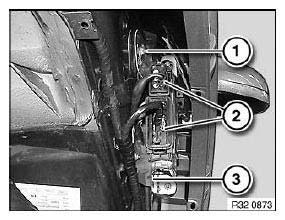 Fig. 104: Identifying Plug Connection, Cable Holder And Nut
Release nuts (1, 2).
Tightening torque 32 43 1AZ.
Remove active front steering control unit (3).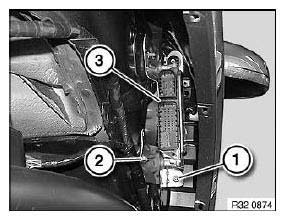 Fig. 105: Identifying Front Steering Control Unit And Nuts
After installation:
Replacement only: Carry out coding
Only when replacing / programming / coding: Carry out adjustment for active front steering
Teach in center position for power steering gear
TROUBLESHOOTING
TROUBLESHOOTING ON STEERING
Observe troubleshooting on front axle and diagnosis help for steering (SI).
TROUBLESHOOTING CHART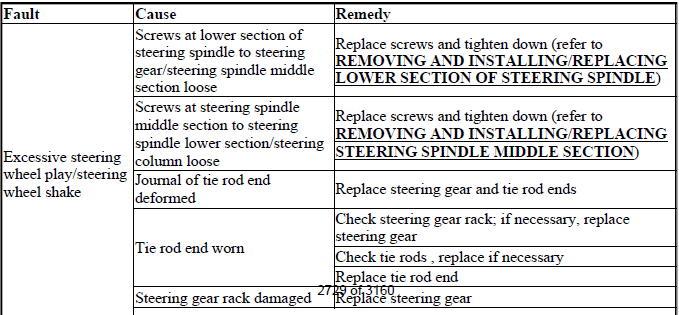 READ NEXT:
1. General information on handling rubber seal profiles: If seals reveal partly detached protective film on delivery, they must not be bonded. Store seals at 15 ºC to 25 ºC. If, during the han
SEE MORE:
REPLACING ALTERNATOR BELT PULLEY Special tools required: 12 7 110. Remove and install alternator drive belt. Depending on alternator type, grip shaft with: hexagon socket multi-tooth socket or Torx socket wrench Release nut with special tool 12 7 110. Installation: Tightening torque, 12 31
Special tools required: 34 1 280. Necessary preliminary tasks: Remove front wheels. Remove and clean brake pads. After completing work, read and comply with notes on braking in new brake discs / brake pads. Check minimum brake disc thickness: Position special tool 34 1 280 at three measu