BMW X5: BMW Gesture Control
Principle
Several iDrive functions can be operated by hand motion using BMW Gesture Control.
Overview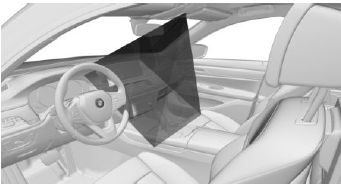 The camera in the headliner detects gestures that are carried out in the area of the center console at the height of the Control Display.
Activate/deactivate
1. "CAR".
2. "Settings".
3. "General settings".
4. "Gesture control".
5. "Gesture control".
Carrying out gestures
Perform gestures underneath the interior mirror and next to the steering wheel.
Execute gestures clearly.
The gestures can also be executed from the front-passenger side.
Possible gestures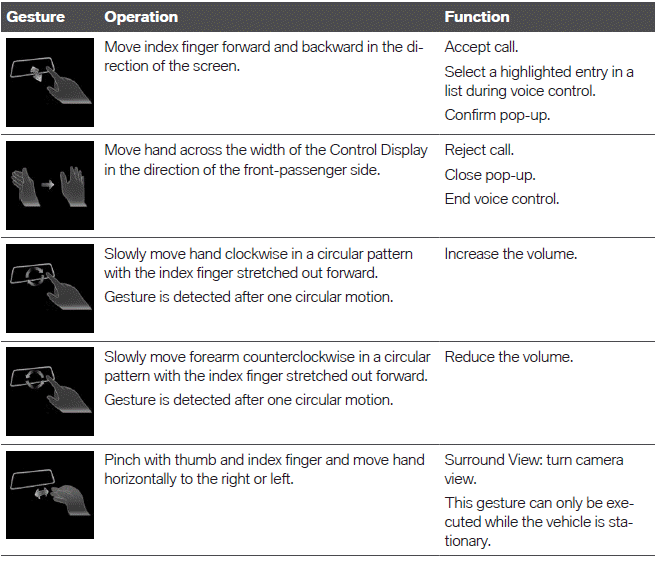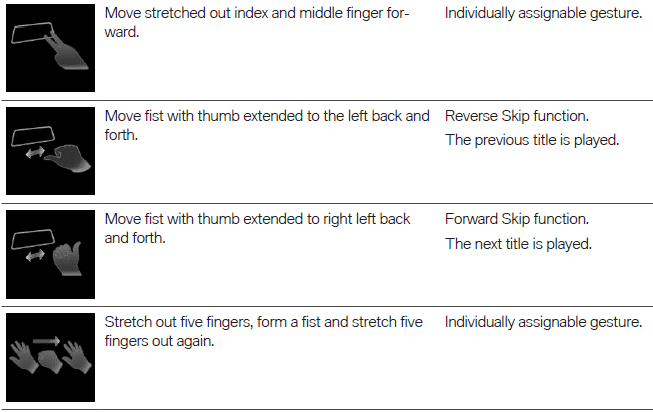 Assigning gesture individually
General information
Two gestures can be assigned individually and can be configured for certain functions, such as:
Destination guidance to home address.
Mute/Playback
Control Display on/off
Select function
1. "CAR".
2. "Settings".
3. "General settings".
4. "Gesture control".
5. "Function assignment gesture 1" or "Function assignment gesture 2".
6. Select the desired setting.
System limits
Gesture recognition by the camera in the headliner can be disturbed by the following circumstances:
READ NEXT:
Remote Software Upgrade can be used to update the entire software of the vehicle. This makes new functions, functional enhancements or quality improvements available. General information BMW recommend
Standby must be turned on to search for a software upgrade. Automatic search The vehicle regularly searches for updates in the background. Manual search 1. "CAR". 2. "Settings". 3. "General settings
SEE MORE:
Principle For the illumination of the vehicle's surroundings after exiting the vehicle, the exterior lighting can be switched on for a defined period of time. Switching pathway lighting on After switching off the drive-ready state, briefly push the turn signal lever forward. Setting the duration 1.
Principle The Integrated Owner's Manual specifically describes features and functions found in the vehicle. The Integrated Owner's Manual can be displayed on the Control Display. Selecting the Owner's Manual 1. Press the button. 2. "CAR". 3. "Owner's Manual". 4. Select the desired method of acc