BMW X5: Tire marking
Tire size
245/45 R 18 96 Y
245: nominal width in mm
45: aspect ratio in %
R: radial tire code
18: rim diameter in inches
96: load bearing capacity
Y: speed code letter
ZR tires: reinforced radial tire for speeds exceeding
150 mph/240 km/h
Maximum tire load
Maximum tire load is the maximum permissible weight for which the tire is approved.
Locate the maximum tire load on the tire sidewall and the Gross Axle Weight Rating - GAWR - on the certification label on the driver door B-pillar.
Divide the tire load by 1.1. It must be greater than one-half of the vehicle's Gross Axle Weight Rating - GAWR. Note, front vs. rear GAWR and tire loads, respectively.
Speed letter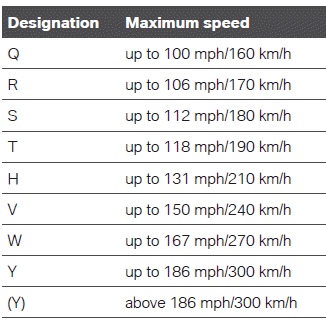 Tire Identification Number
DOT Code: DOT xxxx xxx 1921
xxxx: manufacturer code for the tire brand
xxx: tire size and tire design
1921: tire age
Tires with DOT codes meet the guidelines of the U.S. Department of Transportation.
Tire age
Recommendation
Regardless of the tire tread depth, replace tires at least every 6 years.
Manufacture date
You can find the manufacture date of the tire on the tire sidewall.

Uniform Tire Quality Grading
Quality grades can be found where applicable on the tire sidewall between tread shoulder and maximum section width.
E.g.: Treadwear 200; Traction AA; Temperature A
DOT Quality Grades
Treadwear
Traction AA A B C
Temperature A B C
All passenger vehicle tires must conform to Federal Safety Requirements in addition to these grades.
Treadwear
The treadwear grade is a comparative rating based on the wear rate of the tire when tested under controlled conditions on a specified government test course. E.g., a tire graded 150 would wear one and one-half, 1 g, times as well on the government course as a tire graded 100.
The relative performance of tires depends upon the actual conditions of their use, however, and may depart significantly from the norm due to variations in driving habits, service practices and differences in road characteristics and climate.
Traction
The traction grades, from highest to lowest, are AA, A, B, and C.
Those grades represent the tire's ability to stop on wet pavement as measured under controlled conditions on specified government test surfaces of asphalt and concrete. A tire marked C may have poor traction performance.
The traction grade assigned to this tire is based on straight-ahead braking traction tests, and does not include acceleration, cornering, hydroplaning, or peak traction characteristics.
Temperature
The temperature grades are A, the highest, B, and C, representing the tire's resistance to the generation of heat and its ability to dissipate heat when tested under controlled conditions on a specified indoor laboratory test wheel. Sustained high temperature can cause the material of the tire to degenerate and reduce tire life, and excessive temperature can lead to sudden tire failure.
The grade C corresponds to a level of performance which all passenger car tires must meet under the Federal Motor Vehicle Safety Standard No. 109. Grades Band A represent higher levels of performance on the laboratory test wheel than the minimum required by law.
Warning
The temperature grade for this tire is established for a tire that is properly inflated and not overloaded. Excessive speed, underinflation, or excessive loading, either separately or in combination, can cause heat buildup and possible tire failure.
RSC - Run-flat tires
Run-flat tires, are labeled with a circular icon containing the letters RSC marked on the sidewall.
M+S
Winter and all-season tires with better cold weather performance than summer tires.
Tire tread
Summer tires
Do not drive with a tire tread depth of less than 0.12 in/3 mm, otherwise there is an increased risk of aquaplaning.
Winter tires
Do not drive with a tire tread of less than 0.16 in/4 mm, as such tires are less suitable for winter operation.
Minimum tread depth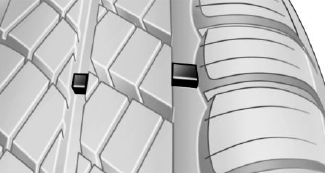 Wear indicators are distributed around the tire circumference. These wear indicators have the legally required minimum height of 0.063 in/1.6 mm.
The positions of the wear indicators are marked on the tire sidewall with TWI, Tread Wear Indicator.
Tire damage
General information
Inspect your tires regularly for damage, foreign objects lodged in the tread, and tread wear.
Driving over rough or damaged road surfaces, as well as debris, curbs and other obstacles can cause serious damage to wheels, tires and suspension parts. This is more likely to occur with low-profile tires, which provide less cushioning between the wheel and the road. Be careful to avoid road hazards and reduce your speed, especially if your vehicle is equipped with low-profile tires.
Indications of tire damage or other vehicle malfunctions:
Unusual vibrations.
Unusual tire or running noises.
Unusual handling such as a strong tendency to pull to the left or right.
Damage can be caused by the following situations, for instance:
Driving over curbs.
Road damage.
Tire pressure too low.
Vehicle overloading.
Incorrect tire storage.
Safety information
Warning
Damaged tires can lose tire inflation pressure, which can lead to loss of vehicle control. There is a risk of accident. If tire damage is suspected while driving, immediately reduce speed and stop. Have wheels and tires checked. For this purpose, drive carefully to the nearest dealer's service center or another qualified service center or repair shop. Have vehicle towed or transported as needed. Do not repair damaged tires, but have them replaced.
Warning
Tires can become damaged by driving over obstacles, e.g., curbs or road damage, at high speed. Larger wheels have a smaller tire crosssection.
The smaller the tire cross-section, the higher the risk of tire damage. There may be a risk of accident and risk of damage to property.
If possible, avoid driving over objects or road conditions that may damage tires, or drive over them slowly and carefully.
READ NEXT:
Mounting and wheel balancing Have mounting and wheel balancing carried out by a dealer's service center or another qualified service center or repair shop. Approved wheels and tires General informatio
Principle Run-flat tires permit continued driving under restricted conditions even in the event of a complete tire pressure loss. General information The wheels consist of tires that are self-supporti
Principle With the tire repair set, minor tire damage can be sealed temporarily to enable continued driving. General information To enable continued driving, liquid sealant is pumped into the tire,
SEE MORE:
Principle Dynamic Traction Control (DTC) is a version of the Dynamic Stability Control (DSC) where drive power is optimized. The system ensures maximum drive power on unusual road conditions, for instance unplowed snow covered roads, or loose road surfaces, but with somewhat limited driving stabili
OVERVIEW OF WINDSCREEN WIPER, WINDSCREEN WASHER AND HEADLIGHT WASHER SYSTEMS Fig. 262: Overview Of Windscreen Wiper, Windscreen Washer And Headlight Washer Systems Rear window wiper blade Wiper arm for rear window wiper Rear window wiper motor Spray nozzle for rear window washer system Wiper