BMW X5: System limits - Active Cruise Control with Stop&Go function ACC
System limits
System limits of the sensors
Additional information:
Detection range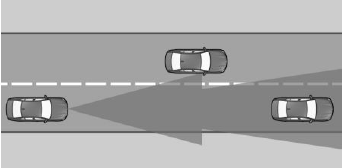 The detection capability of the system and the automatic braking performance are limited.
Two-wheeled vehicles for instance might not be detected.
Deceleration
The system does not decelerate in the following situations:
For pedestrians or similarly slow-moving road users.
Depending on the equipment, with red traffic lights.
For cross traffic.
For oncoming traffic.
Merging vehicles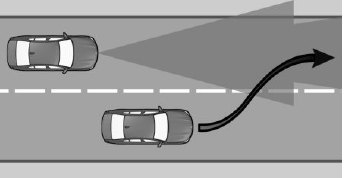 If a vehicle driving ahead of you suddenly merges into your lane, the system may not be able to automatically restore the selected distance. It may not be possible to restore the selected distance in certain situations, including if you are driving significantly faster than vehicles driving ahead of you, for instance when rapidly approaching a truck. When a vehicle driving ahead of you is reliably detected, the system requests that the driver intervene by braking and carrying out evasive maneuvers, if needed.
Cornering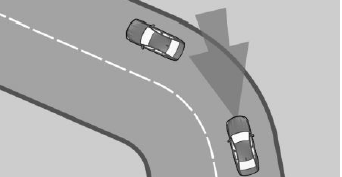 When the set speed is too high for a curve, the speed is reduced slightly. Because curves may not be anticipated in advance, drive into a curve at an appropriate speed.
The system has a limited detection range. Situations can arise in tight curves where a vehicle driving ahead will not be detected or will be detected very late.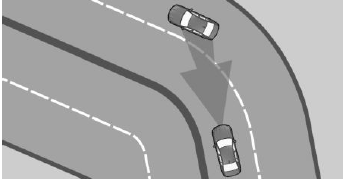 When you approach a curve the system may briefly report vehicles in the next lane due to the bend of the curve. If the system decelerates you may compensate it by briefly accelerating. After releasing the accelerator pedal the system is reactivated and controls speed independently.
Driving off
In some situations, the vehicle cannot drive off automatically; for example:
On steep uphill grades.
In front of bumps in the road.
With a heavy trailer.
In these cases, step on the accelerator pedal.
Weather
The following restrictions can occur under unfavorable weather or light conditions:
Poorer vehicle detection.
Short-term interruptions for vehicles that are already recognized.
Drive attentively, and react to the current traffic situation. If necessary, intervene actively, for instance by braking, steering or evading.
Drive power
The set speed is also maintained downhill. The speed may not be maintained on uphill grades if the drive power is insufficient.
In ECO PRO driving mode, the vehicle may exceed or drop below the set desired speed in some situations, for instance on downhill or uphill grades.
READ NEXT:
Principle Speed Limit Assistant supports driving at the speed limit. A suggested speed can be applied. General information When the systems in the vehicle, e.g., Speed Limit Info, detect a change of t
Principle The Steering Assistant helps keep the vehicle in the lane. For this purpose, the system executes supporting steering movements, for instance when driving in a curve. General information Depe
Principle Extended Traffic Jam Assistant supports the driver with vehicle control in traffic jam situations. Supporting steering movements take place without the driver actively steering. General inf
SEE MORE:
Principle Pre-conditioning cools or heats the car's interior prior to departure to a comfortable temperature. The system automatically cools, vents, and heats depending on the interior, external, and set temperature. Snow and ice may be removed more easily. The system starts the engine automatica
Necessary preliminary tasks: Remove backrest cover. Remove retractor mechanism. Remove lock. Release screws (1). Installation: Replace screws and insert with Loctite. Tightening torque 52 26 07AZ. Remove lock for centre armrest. Fig. 160: Identifying Screw REMOVING AND INSTALLING/REPLACING