BMW X5: Raising Vehicle With Trolley Jack
IMPORTANT: Observe the following trolley-jack-related instructions:
1. Use only BMW-distributed/approved trolley jacks which have rubber plate contact points.
2. Trolley jacks must be regularly serviced and always checked for functional reliability before they are used!
3. Check the rubber plate on the trolley jack prior to each use, replacing if necessary.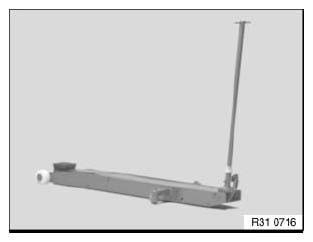 Fig. 1: Identifying Trolley Jack
WARNING: The vehicle may be raised with a trolley jack only at the following jacking points!
Car jacking point
Side car jacking points
Rear differential
Risk of damage: It is not permitted to raise the vehicle at the rear differential cover!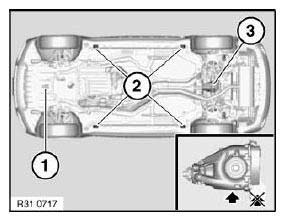 Fig. 2: Identifying Car Jacking Point
REAR AXLE LAYOUT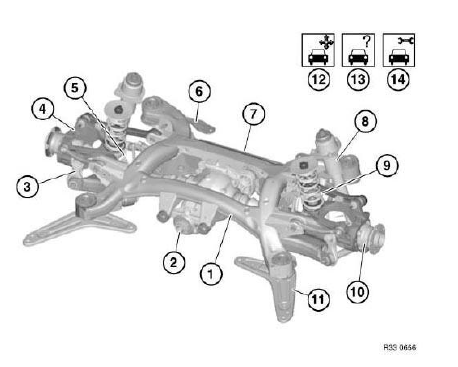 Fig. 3: Identifying Rear Axle Components
Overview, real axle carrier with rubber mount
Overview of rear differential/output shafts
Overview of steering links
Wheel carrier
Stabilizer link
Compression strut, rear
Stabilizer / rubber mount
Shock absorber
Coil spring
Wheel bearing / drive flange
Compression strut, front
Adjustment work
Troubleshooting
Testing
LAYOUT OF SHOCK ABSORBER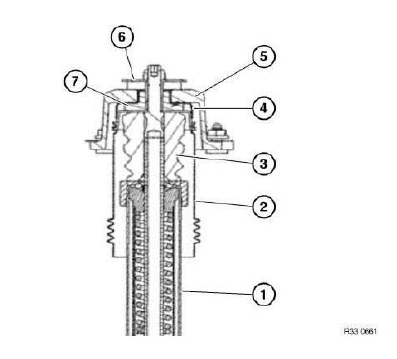 Fig. 4: Layout Of Shock Absorber
Shock absorber
Protective tube
Auxiliary damper
Support pot
Support bearing flange
Joint seat
Thrust bearing
OVERVIEW OF REAR AXLE CARRIER WITH RUBBER MOUNTS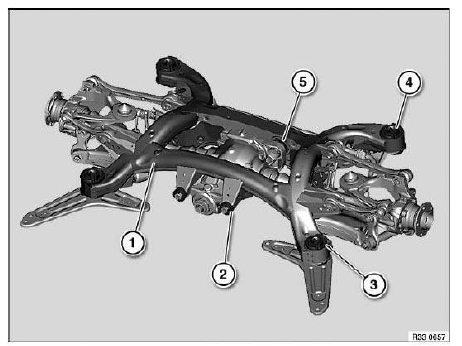 Fig. 5: Overview Components Of Rear Axle Carrier With Rubber Mounts
Rear axle carrier
Rear differential rubber mount, front
Rear axle carrier rubber mount, front
Rear axle carrier rubber mount, rear
Rear differential rubber mount, rear
OVERVIEW OF REAR DIFFERENTIAL/OUTPUT SHAFTS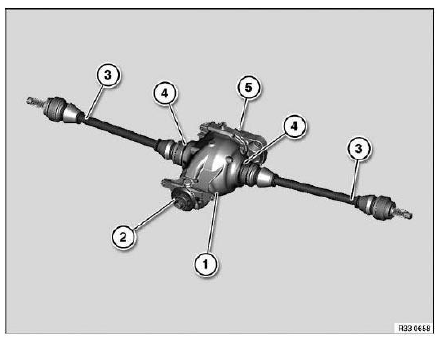 Fig. 6: Overview Components Of Rear Differential/Output Shafts
Rear differential
Shaft seal
Output shaft (left/right)
Shaft seal
Cover (incl. cover gasket)
OVERVIEW OF STEERING LINKS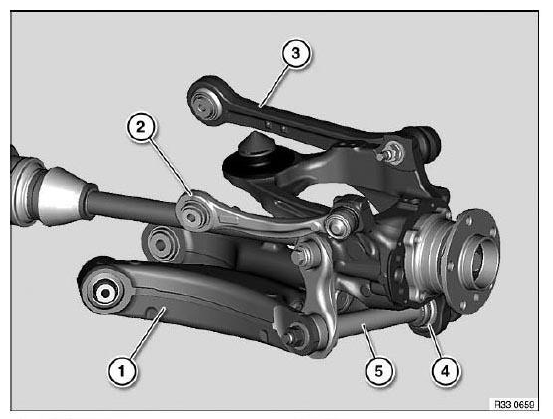 Fig. 7: Overview Components Of Steering Links
Swinging arm
Traction strut
Control arm
Ball joint
Integral link
READ NEXT:
Facts: When a shock absorber is faulty on one side (leaking, noises, limit values exceeded on the shock tester), often both shock absorbers on the axle in question are replaced. E32, E34, E38, E39 :
WARNING: See DANGER OF POISONING IF OIL IS INGESTED/ABSORBED THROUGH THE SKIN and 00 RISK OF INJURY IF OIL COMES INTO CONTACT WITH EYES AND SKIN. IMPORTANT: Risk of damage! To avoid serious damage to
SEE MORE:
Necessary preliminary tasks: Remove outer fold trim. Remove rear panel trim. Partially remove seat cover with padding. Release screw. Release screw (1). Unclip trim (2) at top. Carefully tighten follower (2) on seat cushion frame. Feed trim (2) out of seat mechanism. REMOVING AND INSTALLI
Special tools required: 11 0 320 11 4 420 11 4 430 11 4 471 11 4 472 11 8 580 IMPORTANT: Aluminium-magnesium materials. No steel screws/bolts may be used due to the threat of electrochemical corrosion. A magnesium crankcase requires aluminium screws/bolts exclusively. Aluminium screws/bol