BMW X5: Front Lid
REMOVING AND INSTALLING HOOD/BONNET
WARNING: Danger of injury! Support engine hood in fully opened position with suitable apparatus.
IMPORTANT: Removal of the hood/bonnet must be carried out with the assistance of a second person.
NOTE: Carry over schematic representation to the relevant vehicle type.
Release nuts (1).
Remove hood lid.
Installation:
Install engine hood at screw locations to on hinge. This dispenses with the need for adjustment after installation.
If this is not possible, adjust engine hood.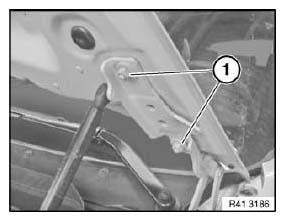 Fig. 223: Identifying Nuts
ADJUSTING ENGINE BONNET/HOOD
IMPORTANT: Do not damage adjoining body parts.
Minor corrections (realignment work) are permitted if the existing adjustment options are not sufficient.
NOTE: Observe gap dimensions. Carry over schematic representation to the relevant vehicle type.
Slacken nuts (1) of hinges on left and right.
Hood lid must be able to be moved.
NOTE: If the adjustment range is not sufficient, release retaining screws of engine hood hinge on body and move hinge.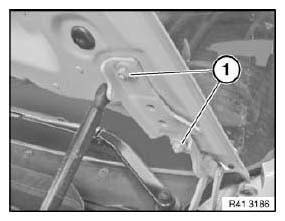 Fig. 224: Identifying Nuts
Retaining hooks must snap into place in locks.
Adjust engine hood.
NOTE: Vertical adjustment of engine hood to side panel by means of stop pads.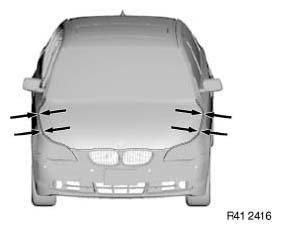 Fig. 225: Identifying Retaining Hooks
NOTE: Adjust height of hood/bonnet to front bumper by turning nuts (1) on retaining hooks.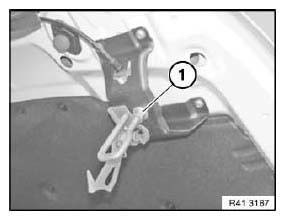 Fig. 226: Identifying Nuts On Retaining Hooks
If adjustment is necessary, remove front grille.
Do not slacken nut (2).
Adjust hood/bonnet by turning spacers (1) on both sides.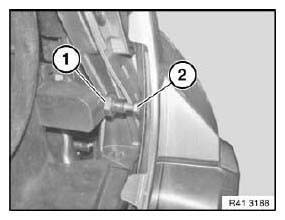 Fig. 227: Identifying Nut And Spacers
IMPORTANT: Check function of retaining hook.
After installation:
Tighten all screws and nuts to specified torque.
Touch up unpainted surfaces in the appropriate color.
If necessary, adjust front side panels.
READ NEXT:
REMOVING AND INSTALLING REAR LID UPPER SECTION Read contents of Body, General. Necessary preliminary tasks: Remove spoiler. Remove trims on rear lid upper section. Disconnect all cable plug conn
REMOVING AND INSTALLING FLAP FOR FUEL FILLER NECK NOTE: The illustration is a schematic representation and is to be applied to the relevant vehicle type. Open fuel filler flap. Lever out lock (2) an
SEE MORE:
IMPORTANT: Compressors with plastic belt pulleys: Avoid impacts/knocks to plastic belt pulley (caused by tools, contact with base). Return faulty compressors in their original packaging only. IMPORTANT: When starting up a new compressor for the first time, it is absolutely essential to carry
Necessary preliminary tasks: Open slide/tilt sunroof NOTE: Shown removed here for purposes of clarity. Pull plastic strip (1) on net of wind deflector out of retainers (2). IMPORTANT: Do not pull on the net so as to avoid tearing the net. Installation: If necessary, reinstall retainers in frame.