BMW X5: Emergency Call
Intelligent emergency call
Principle
In case of an emergency, an emergency call can be triggered automatically by the system or manually.
General information
Only press the SOS button in an emergency.
The Intelligent Assist system establishes a connection with the BMW Response Center.
For technical reasons, the Emergency Call cannot be guaranteed under unfavorable conditions.
Overview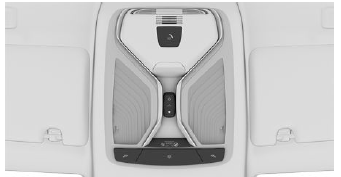 SOS button.
Functional requirements
Standby state is switched on.
The Assist system is functional.
If the vehicle is equipped with intelligent emergency call: the integrated SIM card in the vehicle has been activated.
Automatic triggering
Under certain conditions, for instance if the airbags trigger, an emergency call is automatically initiated immediately after an accident of corresponding severity. Automatic Collision Notification is not affected by pressing the SOS button.
Manual triggering
1. Tap the cover.
2. Press and hold the SOS button until the LED in the area of the button illuminates green.
The LED is illuminated green when an emergency call has been initiated.

If a cancel prompt appears on the Control Display, the emergency call can be aborted.

If the situation allows, wait in your vehicle until the voice connection has been established.

The LED flashes green when a connection to the BMW Response Center has been established.

The BMW Response Center then makes contact with the occupants of the vehicle and initiates further steps to help.

Even if you are unable to respond, the BMW Response Center can take further steps to help you under certain circumstances.

For this purpose, data that serves to determine the necessary rescue measures, for instance the current position of the vehicle when it can be determined, is transmitted to the BMW Response Center.

Even if the BMW Response Center is no longer heard through the loudspeakers, the BMW Response Center may still be able to hear the occupants of the vehicle.
The BMW Response Center ends the emergency call.
Malfunction
The function of the Emergency Request may be impaired.
The LED in the area of the SOS button lights up for approximately 30 seconds. A Check Control message is displayed.
Have it checked by a dealer's service center or another qualified service center or repair shop.
READ NEXT:
General information If the battery is discharged, the engine can be started using the battery of another vehicle and two jumper cables. Only use jumper cables with fully insulated clamp handles. Safet
Safety information Warning Due to system limits, individual functions can malfunction during tow-starting/towing with the Intelligent Safety systems activated. There is a risk of accident. Switch all
SEE MORE:
Principle With the Cruise Control, a set speed can be adjusted using the buttons on the steering wheel. The system maintains the set speed. The system accelerates and brakes automatically as needed. General information The system can be activated starting at 20 mph/30 km/h. Depending on the vehicl
WARNING: Avoid contact with refrigerant and refrigerant oil. Follow safety instructions for handling R 134a refrigerant. Follow safety instructions for handling refrigerant oil. CAUTION: Always use new O-rings each time A/C connections are opened. Moisten O-rings with refrigerant oil pr